We all dream of having a well-kept terrace, a beautiful garden, an original driveway, and a nice area around our pool. However, these must be made of the best materials, be highly aesthetic, and manufactured to a high level of quality, so that they can serve us for many years. That is why Chicago porcelain pavers are ideal for terraces, garden paths, gazebos, driveways, swimming pools and even external stairs, as well as areas that surround public facilities, such as offices, hotels, restaurants, etc. They are also ideal for places of leisure (parks, swimming areas and foreshore).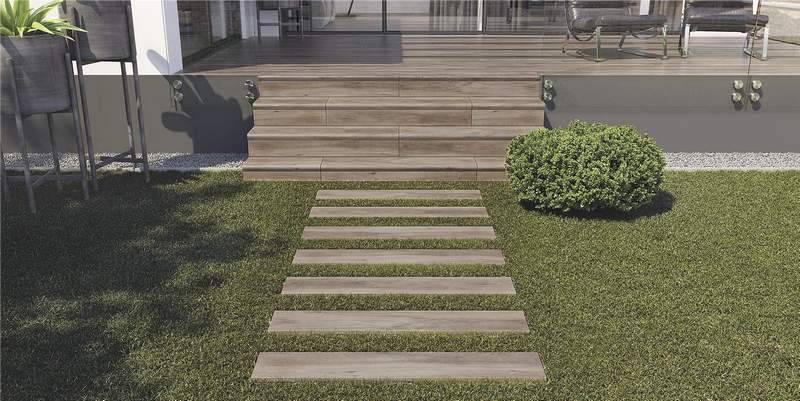 The design of porcelain pavers Chicago is inspired by natural materials, i.e. stone, wood, state and beton , which is why they blend in perfectly with the external environment and the landscape. Now you can bring the flair of classic or modern décor from your indoor to your outdoor areas.
Porcelain paving is effective, looks great and is versatile. The biggest advantage of outdoor porcelain pavers is their resistance to frost, chemicals and harsh weather conditions, so it is an excellent choice for outdoor use.
Excellent resistance to bending and breaking make porcelain pavers Chicago highly suitable for finished areas around buildings. You can use these pavers to create durable walking paths and driveways for passenger cars. Porcelain pavers are also a durable surface for parking lots.
Below are the most important technical aspects regarding the installation of tiles and their basic advantages.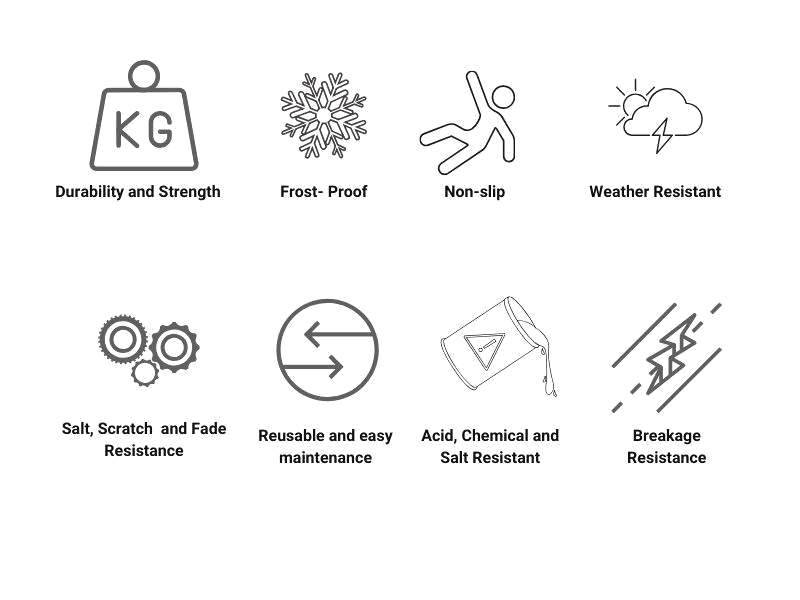 Pavers Functions:
Durability
Strength
Salt resistance
Scratch resistance
Non-slip
Resistance to breakage
Non-fading colors
Low water absorption
Lighter and more practical than cement-based concrete and natural stone
Easy to clean and stain-resistant (easy maintenance)
Resistance to moss and mold growth
You can choose a paving stone from a huge collection of colors and different designs, and decorate your yard according to your style and preferences. Our range of porcelain pavers meets a number of important safety requirements for laying outside surfaces in public places, and combines anti-slip properties with excellent wear and weather resistance. After installation, the pavers are extremely durable and resistant to cracking. Thanks to porcelain pavers, you can give your project the look you want. You can choose the most sophisticated natural materials, such as stone and wood, or give it the look of raw concrete. You can even play with geometric shapes, and select unique colors. There are no design elements that restrict the appearance of porcelain pavers.
You can design your yard from the entrance
When you build a driveway, garage or parking space, you can choose pavers that are very aesthetic and also durable and resistant to stress. Thanks to the fact that Chicago porcelain pavers are produced with the standard thickness of 1 cm (0.4″), you can easily match the interior design elements and the space around your house. In addition, the tiles are very easy to maintain, and you can enjoy their colors even after years of use.
An ideal terrace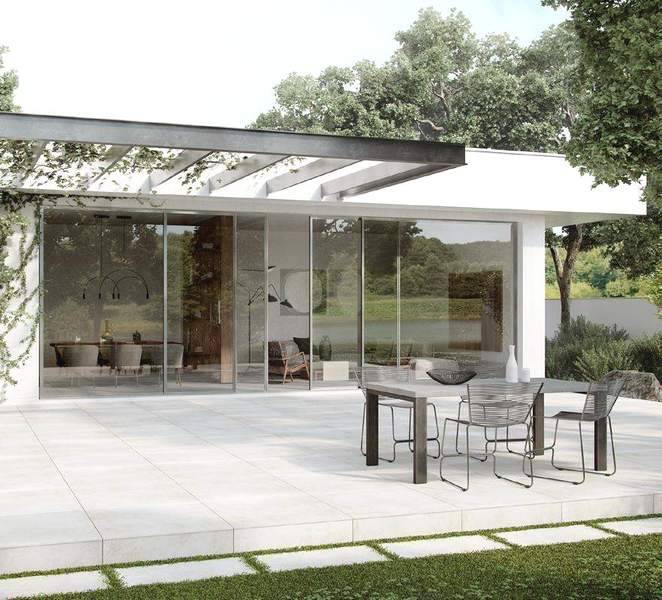 When designing a terrace, balcony or porch, you can choose a cobblestone pattern that suits both outdoor and indoor use. This way, you will harmonize the terrace arrangement with the living room arrangement, creating a coherent décor. In the period from spring to late autumn, the terrace or balcony becomes the most important place in the house, so choosing the right terrace tiles cannot be left to chance. It is worth spending your time thinking about the arrangement of the terrace, which will be used for many years.
A path to the garden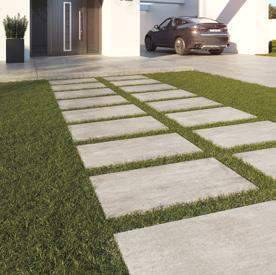 Paving stones harmonize perfectly with home greenery. Garden paths or fashionable gazebos are places where we can relax in the afternoon. Similarly, you can also arrange the space in the garden, using the same pavers to create both terraces and garden paths. You can have larger gaps between individual tiles, which will enable the substrate to naturally breathe and cope with excess natural moisture.
Recreation zones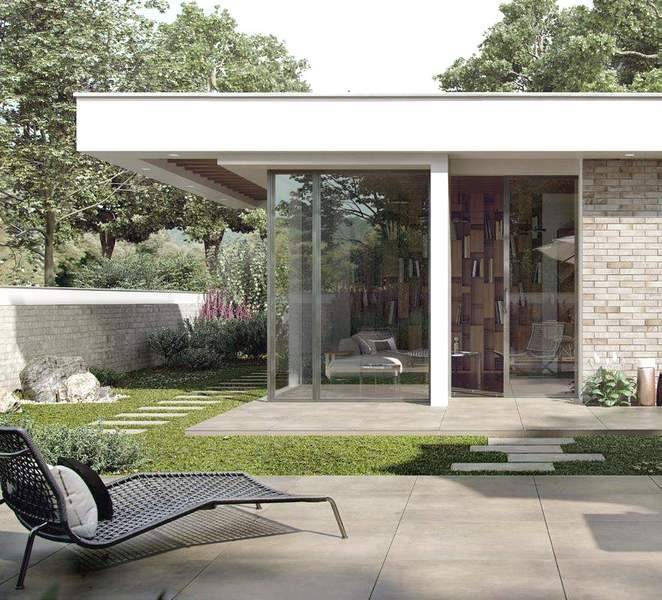 When you prepare the space around the pool, fountain or rockery, you no longer have to choose between aesthetics and technical parameters.
The paving stone is waterproof and guarantees durability and safety without losing its high aesthetic value.
PAVERS APPLICATION
Chicago porcelain pavers can be laid directly on the ground, grass, gravel, sand or special plinths. These tiles give designers unlimited possibilities to create an attractive and functional surface that will please every eye for years to come.
Porcelain tiles can be installed using one of the following three methods:
Traditional adhesive

Raised floor with supports

Directly on gravel or soil

Porcelain tiles that are 20 mm thick can also be laid on concrete.
Porcelain pavers are available in a wide range of sizes and colors, which provides many possibilities and enables exciting and creative designs.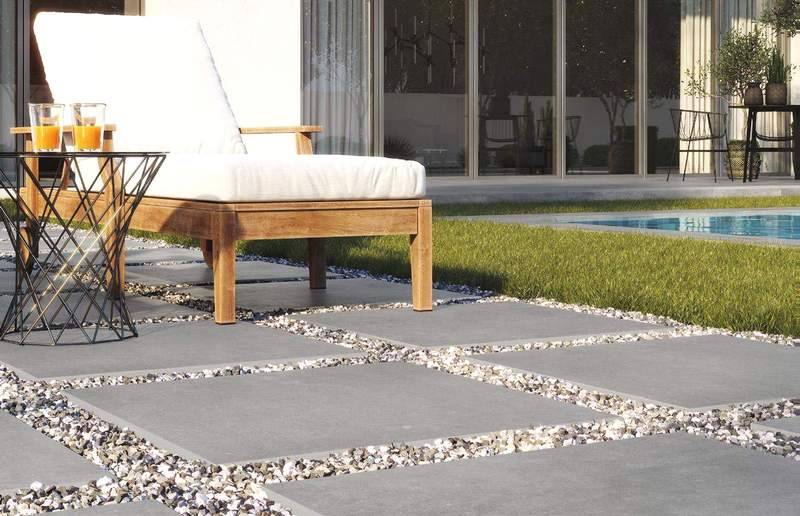 Porcelain is resistant to stress and fading, and has high anti-slip properties, regardless of the weather.
They are also resistant to acids, chemicals and salts, and are resistant to bending and high stress. Porcelain pavers are very easy to install and remove.
Brackets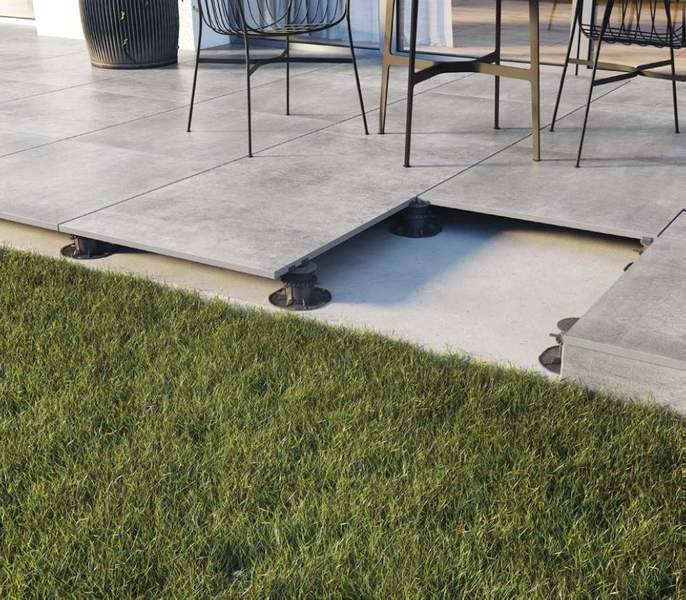 The installation of porcelain tiles is not complicated, but we recommend engaging professional contractors who know the appropriate construction techniques, design considerations, and skills required to lay paving stones. Professional contractors also have access to the tools required for a successful installation.
Pavers are installed using special high-strength plastic washers (brackets). Thanks to these high-quality washers, unevenness of the ground can be effectively corrected to ensure a flat terrace, pool area or balcony floor.
Brackets usually have a base, extension, circlips (lower and upper), adjusting screws (also lower and upper), and tops – spacers.
Mounting pads also provide thermal and acoustic insulation, facilitate water drainage, and allow for perfect leveling of surfaces and masking of installations.
Using brackets, you can place pavers on uneven ground and on old, damaged balcony and terrace surfaces. They should be protected with new moisture insulation, and have a proper fall to allow rainwater to flow freely in the desired direction under the surface of the terrace pavers. This will ensure that the surface of your terrace or driveway will dry quickly, minimizing the risk of slipping.
Our tips for mounting the brackets:
Please specify the height of the bracket. Approximate height is fine because the brackets are adjustable with a fairly large range. If you have a perfectly flat surface, you don't need adjustable brackets as you can use fixed height brackets.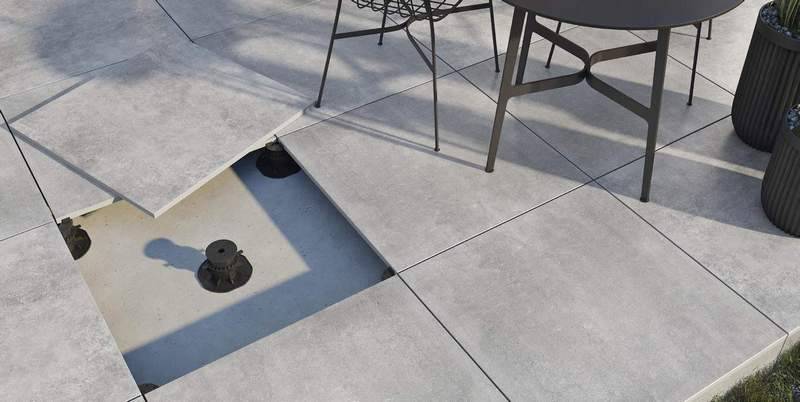 I recommend you use a rubber pad on each bracket. This cools the floor, and you can break a quarter and level the board if needed.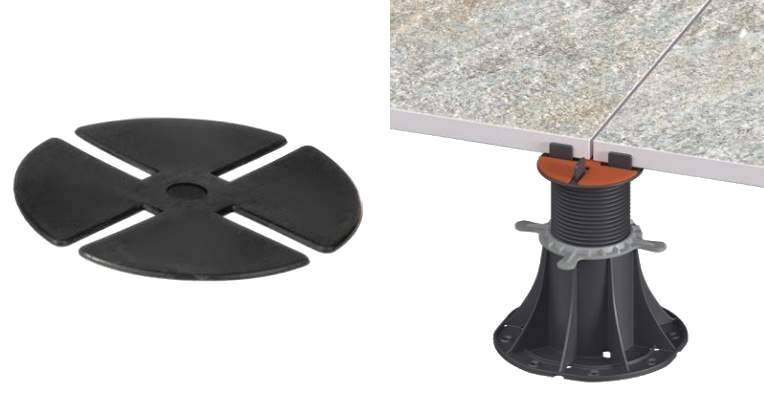 Count how many stands you will need next to the walls. You should allow for expansion joints in these places.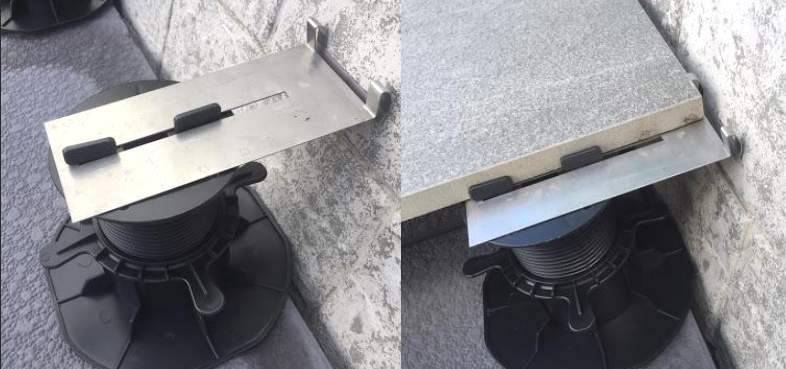 If there is any waterproofing on the terrace, a pad for each pedestal is suggested.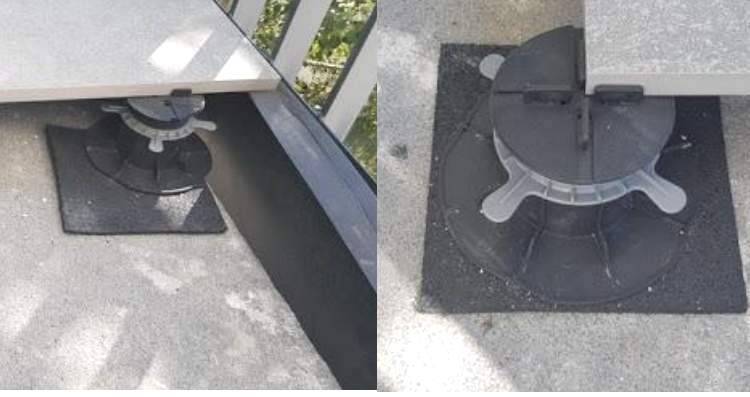 If you have a sloping balcony, consider using self-leveling heads. You only need to buy the top part of the regular stand.
If you need to do masking then you will also need such plates for grilles.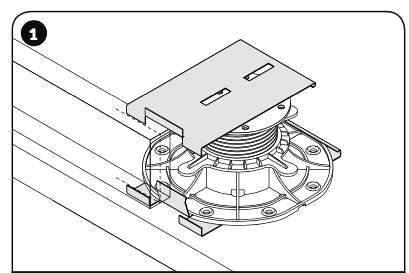 Thanks to the diversity of the Majestic Tiles LMP INC. range, you can choose the type of pavers to suit your personal taste and style and target the aesthetic effect you desire. Choose the collection of paving stones to achieve a consistent arrangement of the space around your house. Your selected porcelain pavers (in one color or in a combination of matching colors) will give the yard an original, expressive look.
Porcelain pavers is not a fashion that will disappear, so you will have a durable and timeless solution by choosing this particular surface.
If you like inspirations that come directly from nature, consider porcelain pavers in earthy colors. A mix of beige and gray will blend perfectly with your building's surroundings. It will also harmonize perfectly with the greenery of trees and shrubs around your home, and will have a calming effect.
The full range of finishing tiles allows us to achieve an excellent final result. Therefore, if you want to have a beautiful environment around your home, please contact our professional design and sales team for more information.
If you are still not sure if you should buy porcelain pavers, visit our news, our gallery and our website about porcelain pavers, to find out what will be best in your home.
Visit our site to see everything we have to offer so that you can choose the best size and colors of pavers for you.
For more information on how https://www.majestictiles.com can help you buy the best porcelain pavers, please visit our contact form or contact us.
466 Diens Drive
Wheeling, 60090, Illinois