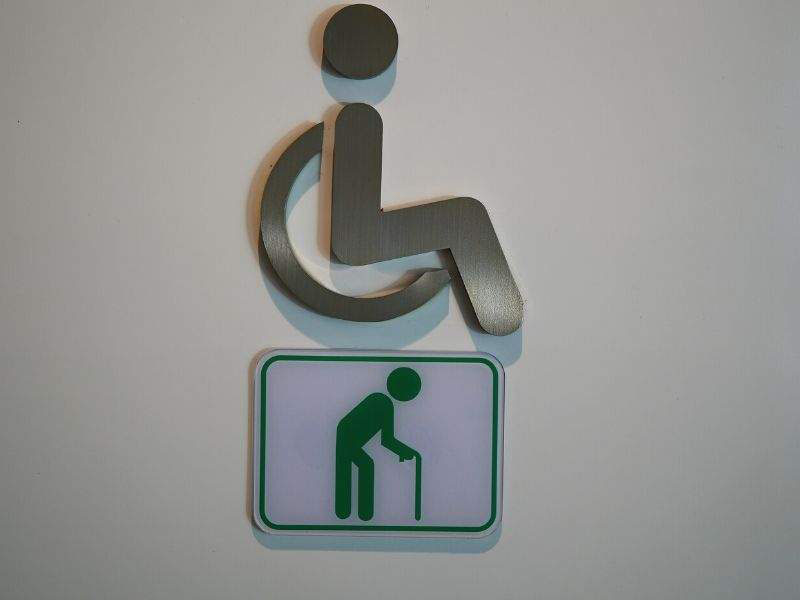 Designing and making a bathroom for people with physical disabilities is not an easy task and certainly requires knowledge of safety requirements. A bathroom designed for people with disabilities must enable them to easily meet their physiological or hygienic needs. The bathroom must be adapted so that a disabled person can, if possible, use it independently without the help of other people. Regardless of whether the same design principles apply in private apartments occupied by people with disabilities or in public bathrooms. The bathroom must be safe, clean, nice, and comfortable. But also the availability of equipment in such a bathroom is the highest priority. Below you will find tips on what to look for when arranging a bathroom for the disabled.
Disabled people, as well as those who are completely physically fit, use public infrastructure. They visit educational establishments, cinemas, shopping malls, restaurants, etc. They use public toilets there, which are often not fully adapted to their needs. Also, the bathroom of a disabled home must be arranged in such a way as to enable them to live independently. Therefore, all barriers that could interfere with this independence should be removed. A well-designed bathroom should ensure the comfort of use as well as meet the client's aesthetic expectations.
Bathroom compliance with building codes and standards
Building regulations must always be the starting point for creating safe toilets for disabled people in public facilities. It is worth consulting the appraiser's projects for such bathrooms and getting their positive feedback to avoid problems after construction.
Availability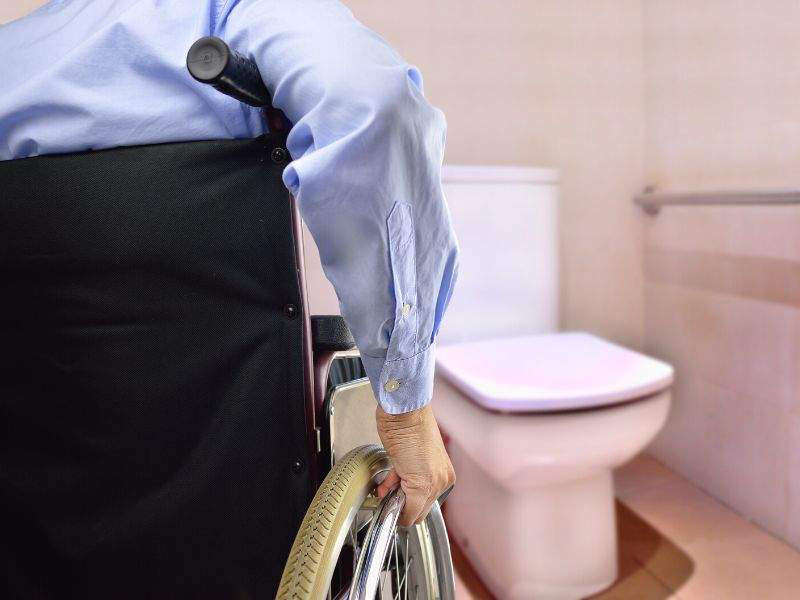 First, a bathroom for a disabled person must be fully accessible. It is important to:
the door leading to it was not too narrow (recommended width: 100 cm / 40 inches (1.02 m)),

no difference in levels, steps and projection thresholds,

use of specialized auxiliary equipment (handrails, handles, and additional seats must be installed in a way that guarantees safety),

it is worth installing non-contact basin faucets or soap dispensers, which will also facilitate access to them,

soap dispensers, electric dryers or paper towels and waste bins should be within the user's reach,

it is worth removing everything from small bathrooms that could hinder comfortable use (bathroom cabinets, the washing machine must find a new place),

there must be no floor mats — they can pose a threat to the safety of people using the bathroom.

The bathroom must be spacious. For a wheelchair user to move freely, the maneuvering space must be at least 150 cm.
Functional bathroom layout
The bathroom of a disabled person should be designed in such a way that it is not difficult to pull the trolley under the sink or change the trolley to the toilet. Therefore, toilets, sinks, showers, or bathtubs must not be placed too close together.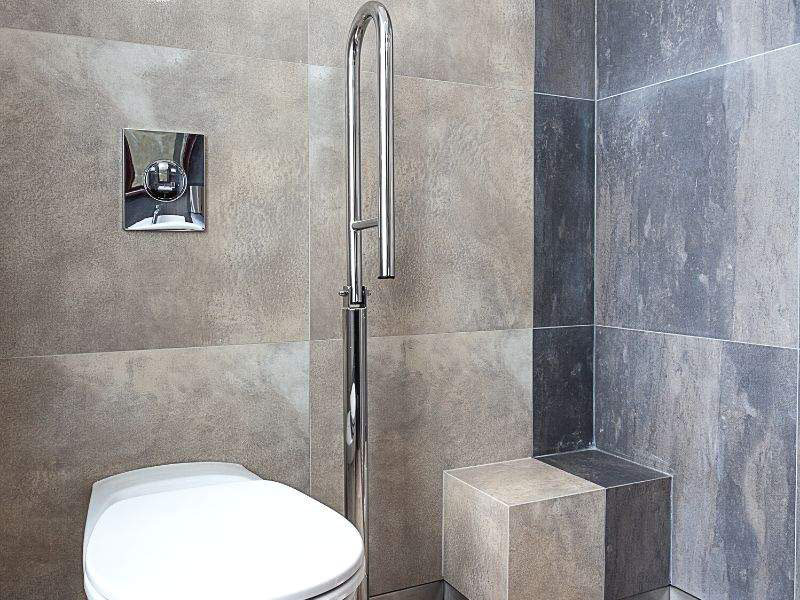 Shower or bathtub in a disabled person's bathroom?
The best solution is a shower set up as a spacious entrance cabin (cabin without a shower tray). This solution is the most convenient solution not only for the disabled but also for the elderly.
Sometimes people decide to install a bathtub with a special bathroom elevator in the bathroom.
Security — appropriate bathroom tiles
People with disabilities moving on crutches or wheelchairs need a stable, non-slip surface. Therefore, the bathroom should use non-slip ceramic tiles on the floor, which will guarantee extreme adhesion in wet conditions that occur in bathrooms.
Ceramic bathroom tiles must be perfectly laid on the floor. Any unevenness and protruding edges can cause serious falls, so the surface must be perfectly smooth. Rectified tiles are a good solution. Thanks to the narrow joints of such plates, the trolley wheels move smoothly, without any unpleasant vibrations.
It is worth investing money in a professional team for professional tile installation.
Easy bathroom cleaning
A very important aspect that should be taken into account when designing the bathroom is the ability to keep it clean. Therefore, not only floors but also walls in the bathroom of a disabled person should be lined with ceramic tiles having a Hygienic Certificate.
Strength
The bathroom floor of a disabled person must be very resistant, especially resistant to bending and cracking. It should be remembered that the weight and high pressure of the trolley wheels place a significant load on the floor tiles and causes them to wear. Therefore, it is not worth saving on their quality and buying ceramic tiles with very good parameters in tests of "breaking strength" and abrasion resistance parameters.
Aesthetics
All the conditions for designing a bathroom for a disabled person described above are extremely important but never forget about aesthetics. When designing a bathroom adapted to the needs of the disabled, you can choose from many collections of ceramic tiles. Our professional seller will help you choose tiles with the best parameters and aesthetic appearance. Depending on what you like — you can bet on industrial, Scandinavian, minimalist style, a combination of wood and white, a timeless stone classic, or many other options. So that the bathroom does not look tight, you can use tricks that visually enlarge its space, about which we wrote in the article: "Ways to visually enlarge the space in a small bathroom".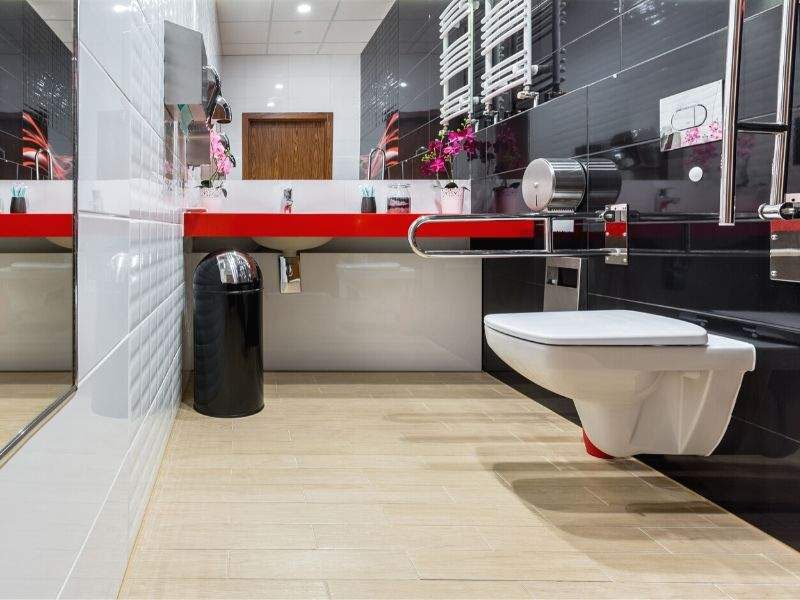 SUMMARY:
For people with disabilities to feel comfortable in the bathroom and to use the sanitary and hygienic functions freely, the bathroom must be set up properly.

All bathroom components must be available,

A uniform floor level (no stairs or steps), as well as a sufficiently wide door, are important,

Optimal maneuvering space for trolleys is necessary (all equipment should be removed so that you can use any bathroom function without any problems),

The most important is user safety — choose tiles with the highest class of resistance to slipping, abrasion, and breakage.

Buy tiles resistant to abrasion, bending and cracking, and resistant to cleaning agents,

Take care of the aesthetic aspects of the bathroom. The bathroom must not only be safe but also nice, which will make using it easier.
Perfectly arranged bathroom for the disabled = security + comfort + a sense of intimacy + aesthetics.
A disabled person will feel independent and independent in such a bathroom. And it will certainly facilitate her life and independent functioning.
If you are still unsure about buying tiles and bathroom vanities, visit our news, our gallery, to find out what will be best in bathroom.
Visit our site to see everything we have to offer so that you can choose the best size and colors of pavers for you.
For more information on how https://www.majestictiles.com can help you buy the best tiles and bathroom vanities for people with disabilities, please visit our contact form or contact us.
466 Diens Drive
Wheeling, 60090, Illinois