Small bathrooms are common especially in apartment buildings and condominiums. And it is worth knowing that properly selected tiles can visually expand that space to make it look bigger and airier. What tiles should be used in a small bathroom to make it seem more spacious?
The space of a small bathroom can be optically enlarged not only with the help of mirrors and the use of appropriate lighting. It is also worth considering selecting tiles that have a significant impact not only on the final style and feel of the bathroom but also on making your small space feel bigger and brighter. A great trick that will work in a small bathroom is to lay the tiles on the walls only halfway up and paint the top part and the ceiling in a bright color. But there are many more tips that will help you optically enlarge a small bathroom.
Read on to learn more about them.
Light Colored Tiles For a Small Bathroom
Dark tiles in a small bathroom are not the best idea. They will overwhelm an already small bathroom, and at the same time visually reduce it. If you have a small bathroom it's best to use tiles in bright and cool colors. White, light gray, off-white, and ivory will work great, as well as more modern solutions, such as tiles imitating light concrete or marble. Cool and light colors make a room optically more spacious. In addition, make sure that your grouts are white or light gray and that they match the color of the tiles. This will create a uniform layer, as opposed to dark grouts, which will contrast with light tiles and, as a result, will make the bathroom look smaller. White, simple tiles may seem to be a bit monotonous and boring, however, it is worth adding a pop of color using some decorative elements and accessories. But don't overdo it. Too many colorful accessories may create the impression of chaos in a small space.
Black and White or Colored Floor Tiles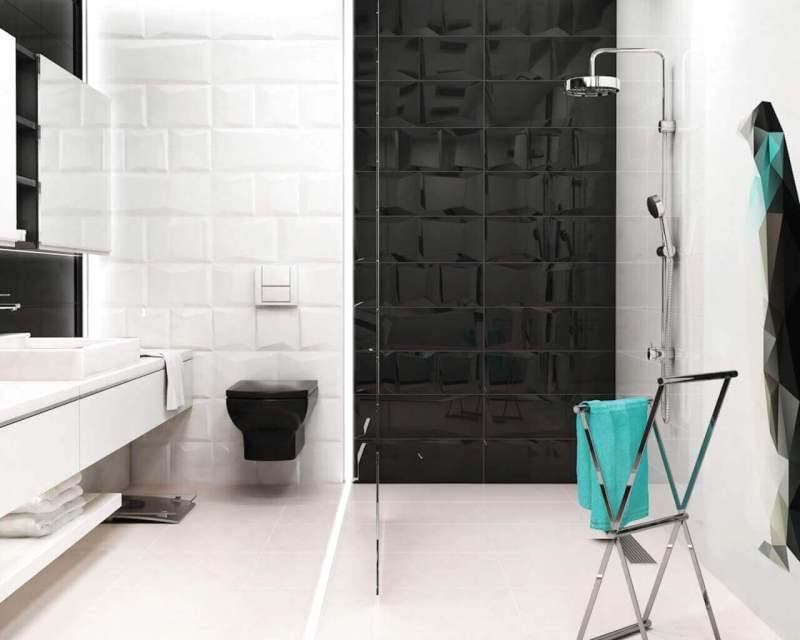 An interesting solution in a small bathroom is the use of black and white tiles arranged in a pattern on the floor. Such a finish combined with light, simple tiles on the walls, preferably white with a white grout, will optically enlarge the interior. The black and white color combination creates a very elegant effect, often found in classic, retro or art deco bathrooms. A small bathroom will seem more spacious also thanks to colorful patterned floor tiles, like fashionable patchwork, against the background of plain, light walls.
White and Wood-like Tiles in a Small Bathroom
White optically enlarges small spaces, but it also fits perfectly with wood-like tiles, which have been very popular lately thanks to their natural appearance. Their heterogeneous texture adds depth to the interior, and thus – spaciousness. Wood-like tiles on the floor or on part of the walls, combined with white tiles or walls painted with white paint, will work well in small bathrooms decorated in a modern, Scandinavian style, which focuses on simplicity and the use of natural elements.
Glossy Finish Tiles for Your Small Bathroom
When it comes to small bathrooms, glossy tiles look way better than matt tiles. Glossy tiles perfectly reflect light and make it diffuse, and thus give the impression of spaciousness. Therefore, choosing high gloss walls and floor tiles seems like a perfect solution for a small bathroom. If you're brave enough, an interesting choice for a small apartment bathroom is going for tiles with a silvery or golden texture, which also perfectly reflect light. In small interiors, their splendor and richness can be used to emphasize, for example, a washbasin or a shower recess. When choosing glossy tiles, it is worth taking care of appropriate lighting that will be illuminating your gorgeous interiors.
Decorative Tiles
Decorative tiles can also do wonders for visually enlarging the dimensions of a small bathroom. If used efficiently, they can effectively brighten and widen a room. In an interior that needs to be expanded, it is best to use horizontal tiles with wide patterns, while in a bathroom that should be extended, vertical tiles with vertical patterns. When using decorative tiles in a small bathroom, it is worth using them in moderation, because excessively richly decorated decors can overwhelm the interior.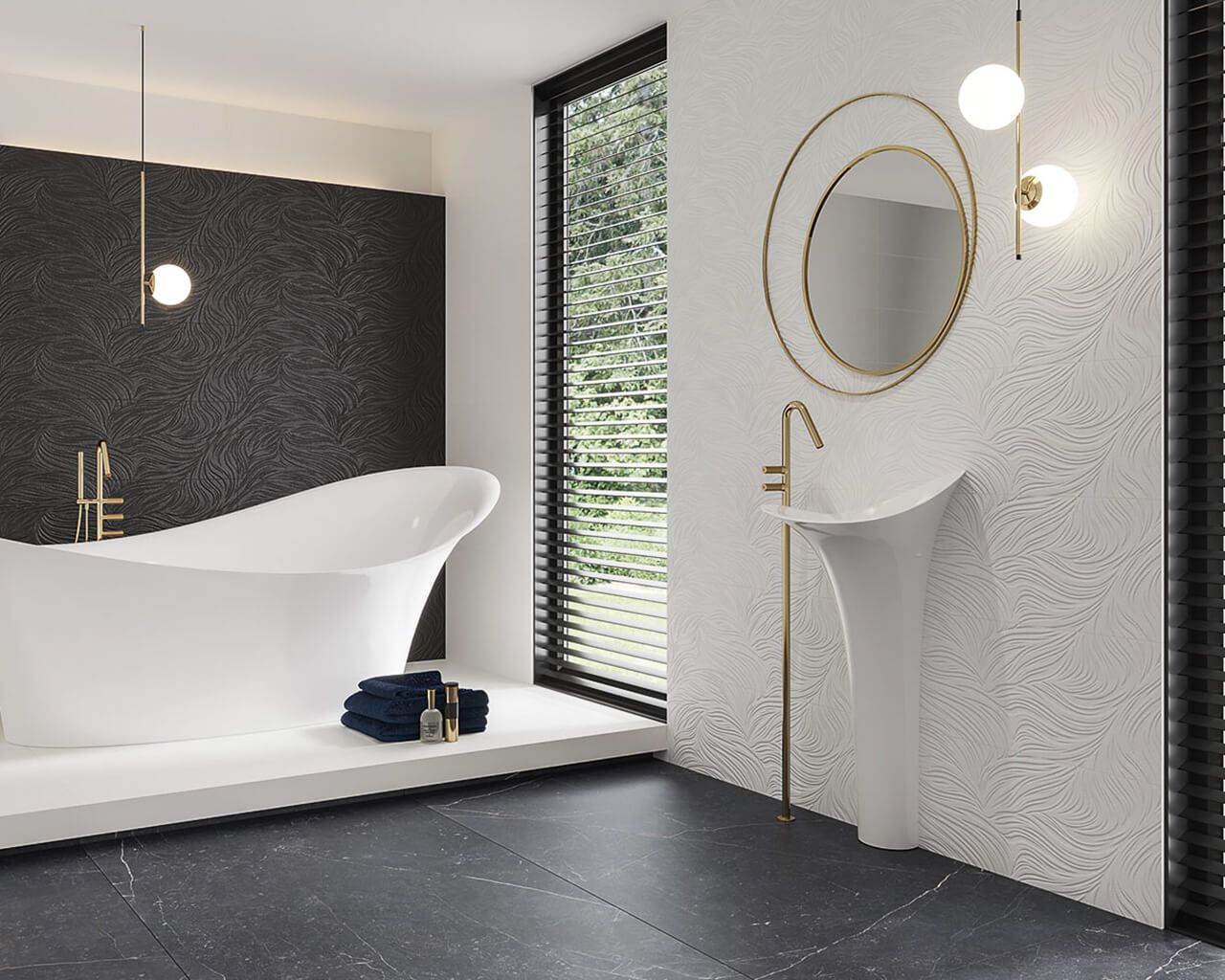 It is a myth that in a small bathroom, the best solution is to use small tiles. Large-size tiles with rectified edges, laid with a very thin grout, will create a uniform surface on the wall or floor. This effect guarantees a visual enlargement of small bathroom space. Of course, small-format tiles will also work well in this type of bathroom, as long as the color of the joints perfectly matches the tiles themselves.
Horizontally Arranged Tiles for a Small Bathroom
A small bathroom will be optically enlarged by horizontally arranging tiles on the wall. In this case, it is worth choosing rectangular tiles with a large format. Another way to obtain more space is to use a horizontal strip in an intense contrasting color among the light tiles. If, on the other hand, the low ceiling in the bathroom is a big problem, it can be visually raised by placing tiles vertically on the wall.
Majestic Tiles – European Ceramic Tiles for Everyone
If you are planning a bathroom remodel and are looking for high-quality European tiles that will make your small bathroom look bigger – visit one of the best ceramic tile stores in Chicago. At Majestic Tiles, we offer a wide selection of Europan Tiles that will fill in any space seamlessly. Our specialists will help you choose the right style, pattern, and color of tile for your specific interior.