The white kitchen is a timeless trend. Due to the great versatility of this color, you can use it alongside neutral tones, earthy shades, and even bold colors. White is very easy to match with furnishings or accessories to create different looks and feelings. Are you planning a major kitchen renovation project and are wondering what kind of tiles to pair with white kitchen furniture? In this article we'll talk about all the unique tiles that will have your white kitchen look and feel AMAZING!
What Kind of Kitchen Tiles to Choose?
Kitchen tiles come in several types. The most popular are ceramic tiles made of clay that is fired at high temperatures and then covered with a thin layer of glaze. Thanks to this, they can come in an unlimited range of colors and patterns. They are non-flammable, easy to clean, and their color does not change overtime. Porcelain tiles are hard and durable, which is why they are perfect for flooring and walls.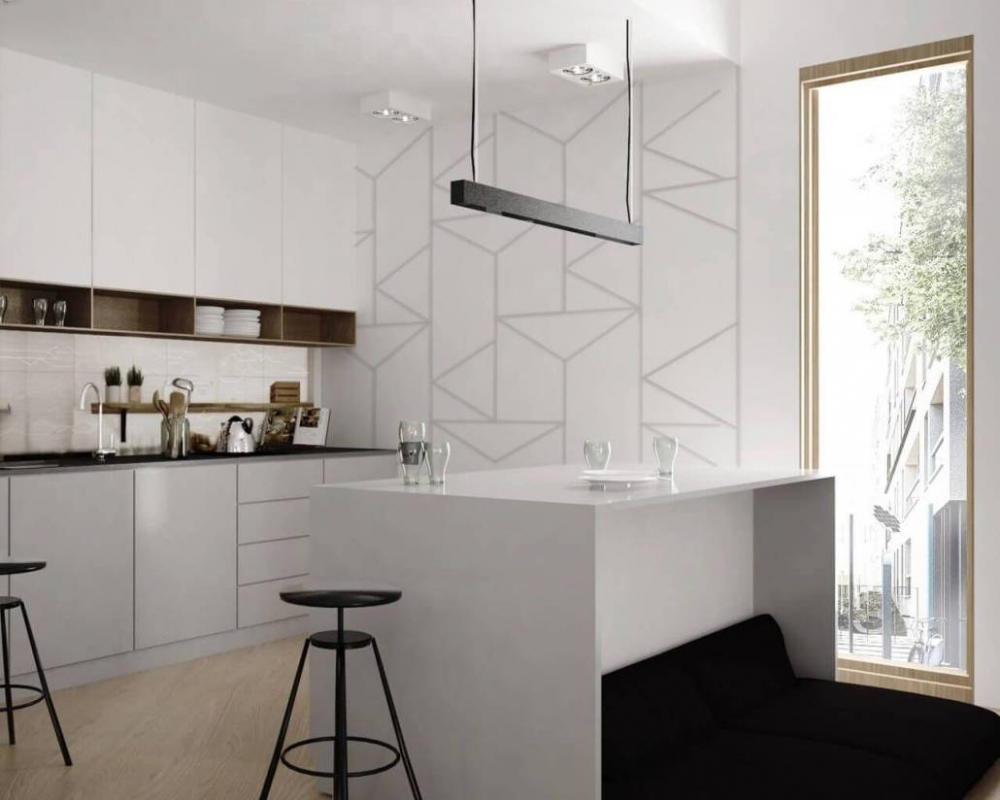 Porcelain tiles are an excellent solution for a kitchen. They are durable, easy to keep clean and can hold up in spaces where moisture will accumulate. Properly combined with modern kitchen furniture, they will help you create a beautiful and majestic interior.
White kitchen furniture is a reflection of elegance and style, and it can go with almost any decor style whether it is a modern, boho or Scandinavian. White furniture almost always looks good, especially when paired with wooden or gray elements. White kitchen cabinets are a true classic that will never go out of style, so even if you feel like you want to add some freshness to your interior, you can always replace the handles on your furniture fronts or go a little bit further and replace your kitchen tiles without having to remodel the entire interior.
White Kitchen + White Ceramic Tiles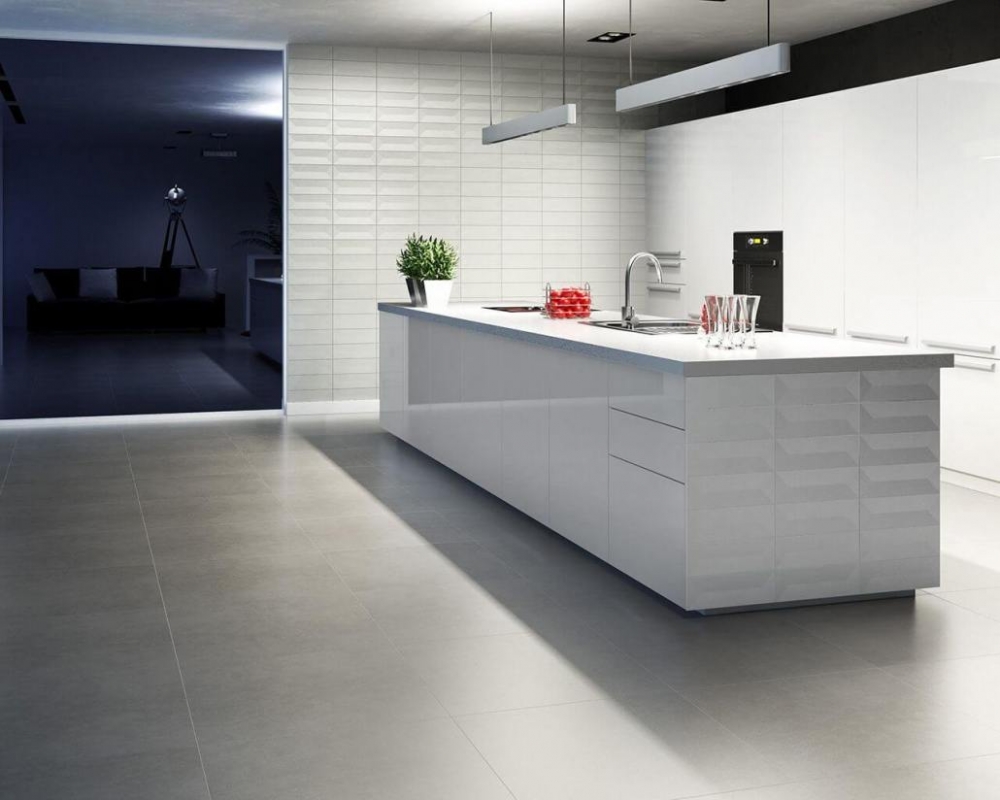 White is associated with cleanliness and purity. Kitchen "drowning" in whiteness is an absolute trend of the recent years that seems to grow stronger every season. White color enlarges the kitchen space and gives it a light, crisp and modern look. Although white likes contrasting materials, like wood or metal, completely white kitchens have been recently the most popular.
If the entire kitchen is dominated by white, it is important to choose finishing materials that will fit well with this style. If you are a really big fan of a white kitchen, you can also choose the floor and walls in this color. However, it's important that you proceed with caution with such solutions, because there is a high risk that the room will become too cool. White in the right doses creates a cozy atmosphere, but in excess it brings to mind cold, sterile rooms associated, for example, with a hospital. In addition, a dominance of one color can be simply boring.
When deciding on white wall and floor tiles, it is worth thinking about something that will allow, at least to some extent, to break the monotony, like a non-standard tile arrangement, which offers an alternative to a basic composition.
White Cabinets + Wood-like Tile Floor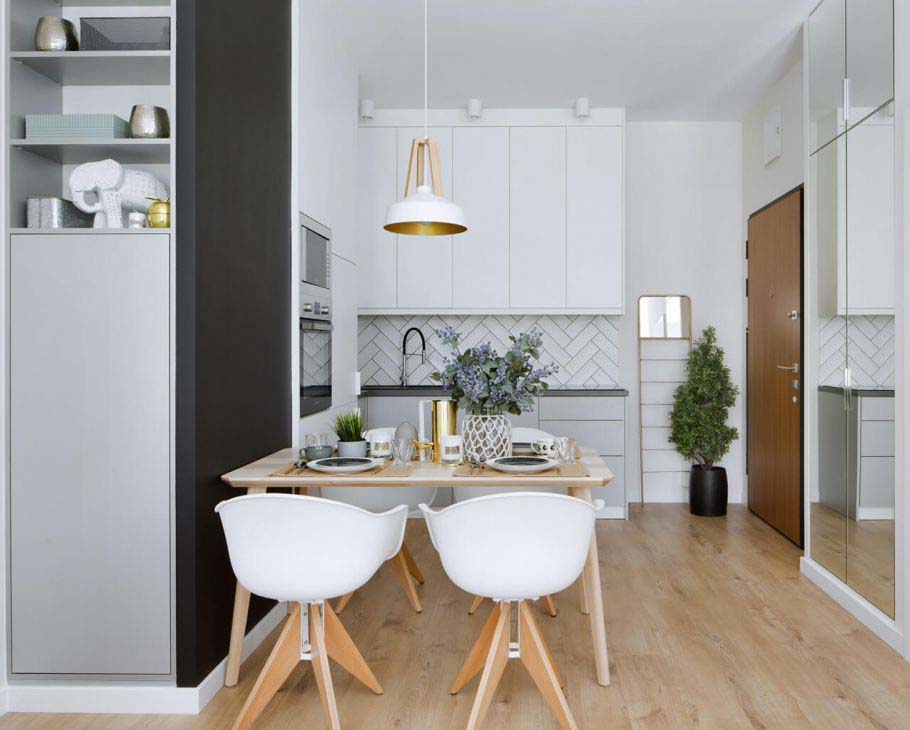 Simple white kitchen furniture combined with a wooden floor give almost unlimited design freedom. The character of the kitchen can then be defined by cabinet handles (or the lack thereof), color, texture or pattern of the walls, the backsplash design, lighting, and other elements. Everything matters here. Our ceramic wood-like floor tiles are both practical (resistant to moisture and deformation), incredibly detailed and look stunningly natural.
Remember that in small apartments and studios, the floor in adjacent rooms should be uniform, which will also contribute to the optical enlargement of the space. The entrance hall in small apartments usually flows smoothly into the living room with a kitchenette – the less "hard" divisions you use, the more friendly the space will be. Our wood-like ceramic tiles will work well for any space – whether it's a hallway, kitchen, bathroom or a living room.
A white kitchen with a wood-like tile floor and wooden countertops (or a white or gray worktop) simply looks pleasing to the eye. You can then go even further and decorate the backsplash with one of our backsplash tile designs to give it more edge.
You can, for example, use a herringbone white brick arrangement, which will give your backsplash a modern touch. If you are wondering what color of the grout for white tiles will work best, you can go for a darker contrast – it will emphasize the original tile pattern, as well as the tile format.
White Kitchen Cabinets + Bold Porcelain Tiles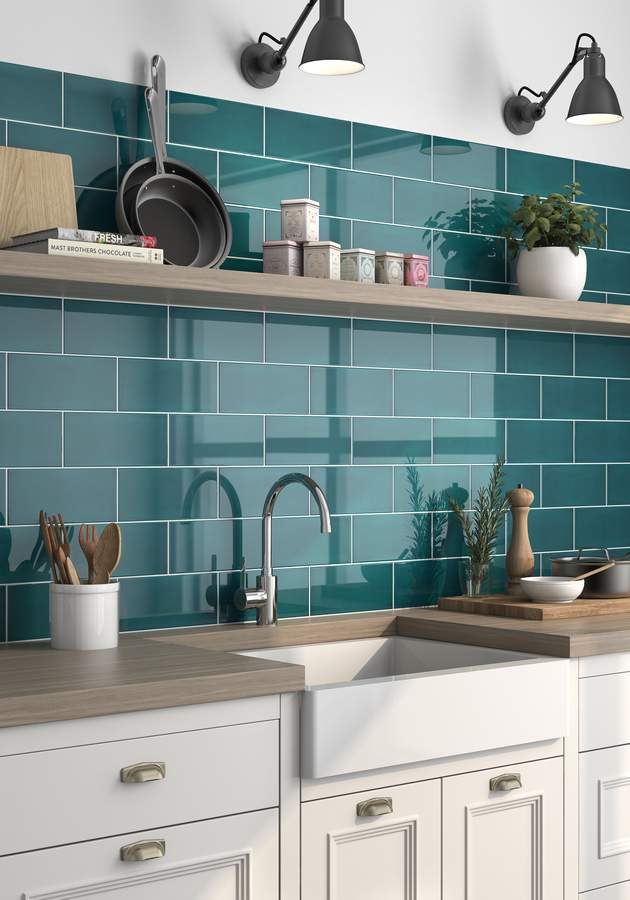 Even if you decide to have most of the elements of the kitchen in white (furniture fronts, countertops, major appliances), you still have a lot of freedom in giving the final feel to this interior. Walls and floors are great opportunities for fun and fantasy – where you can use ceramic tiles in the most fashionable colors. A splash of bold color will keep the kitchen looking modern and fresh.
If you decide to arrange the kitchen with colorful accents, it's worth displaying them in such a way that it constitutes the main color element in the kitchen, which breaks the white. However, it is very important not to overdo it with the number of colors used. It's worth focusing on one expressive accent. One nice bold color will really do the trick and create a naturally cohesive look. Therefore, remember not to combine 2 different colors with each other, as they will most likely clash.
We guarantee that at Majestic Tiles everyone will find something for themselves. Our ceramic tiles come in a variety of colors – green, yellow, orange, blue. Combined with stylish kitchen furniture, they will make the interior a state of the art kitchen.
White Furniture + Pathwork Tile Backsplash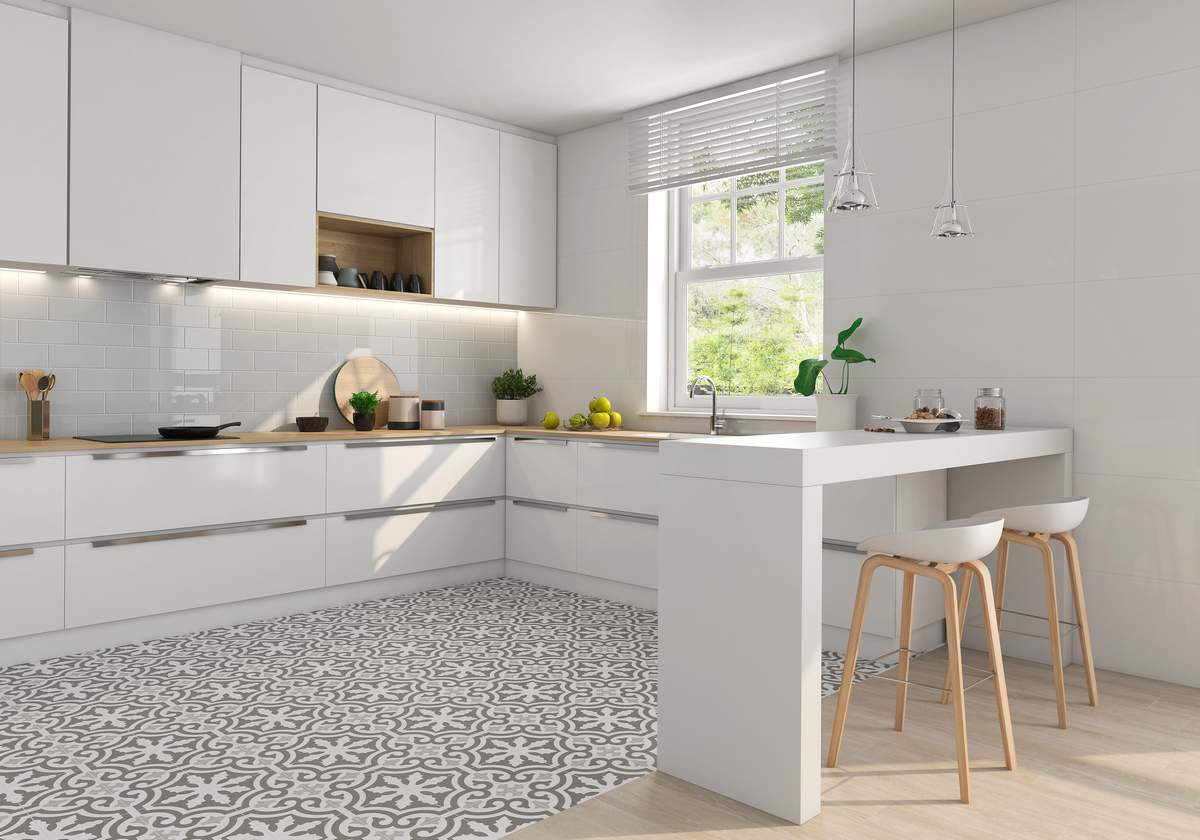 When it comes to tiles, you can take your kitchen to a whole new level with patterned or patchwork ceramic tiles. Tile arrangements with interesting patterns, which do not have to be regular, make a kitchen look graceful and yet give it a very artistic appeal. Colorful patterns look great in rustic interiors. Since they attract attention and constitute a strong accent, it makes sense to combine them with smooth, white furniture.
Porcelain Tiles Chicago
At Majestic Tiles we offer a wide selection of kitchen tiles to make your new kitchen look and feel amazing. Our offer can fit any budget and represent your personal needs and tastes. So whether you're looking for white ceramic tiles, mosaic tiles or other unique tiles for your kitchen or bathroom – visit our showroom and see for yourself what is making Majestic Tiles our customer's favorite place to shop for the most luxurious European ceramic tiles.