Currently, wood-like tiles are a huge hit in interior design. European brands meet the growing expectations of architects and all lovers of stylish interiors, so ceramics imitating wood appear in their latest collections, breaking popularity records.
Tiles imitating natural wood are a new trend in tile design. They resemble wooden panels, but are more resistant than panels made of natural wood. They create a warm atmosphere and have an attractive and unique look and feel. They are also much more practical than their natural version – they do not absorb moisture, which makes them much more durable.
Wood-like tiles are porcelain tiles that imitate wood. Thanks to the appropriate colors and texture, wood-like tiles look exactly like real wooden panels while maintaining the parameters of porcelain tiling. Porcelain tiles do not absorb water, therefore no impregnation is necessary, as is the case with natural wood. An additional advantage is the possibility of installing underfloor heating, because wood-like tiles are a very good heat conductor. All this makes wood-like tiles become an increasingly popular solution not only for floors, but also as for walls, which will give any interior a natural and elegant look.
Why choose wood-like tiles?
Tiles imitating wood are an excellent recipe for decorating an interior that is both functional and distinguished by an impeccable appearance. Wood has inspired people from the very beginning of humanity. Currently, thanks to advanced technology, wood known for its high water absorption, is not suitable for use in the bathroom. It has an excellent alternative, however… tiles imitating wood. Due to their enormous popularity, wood-like European tiles could not be missing from the offer of our bathroom and tile showroom. We have them available in wall and floor versions. Various shapes, numerous colors and a large selection of textures make it easy to find the perfect wood-like bathroom porcelain tiles for your home.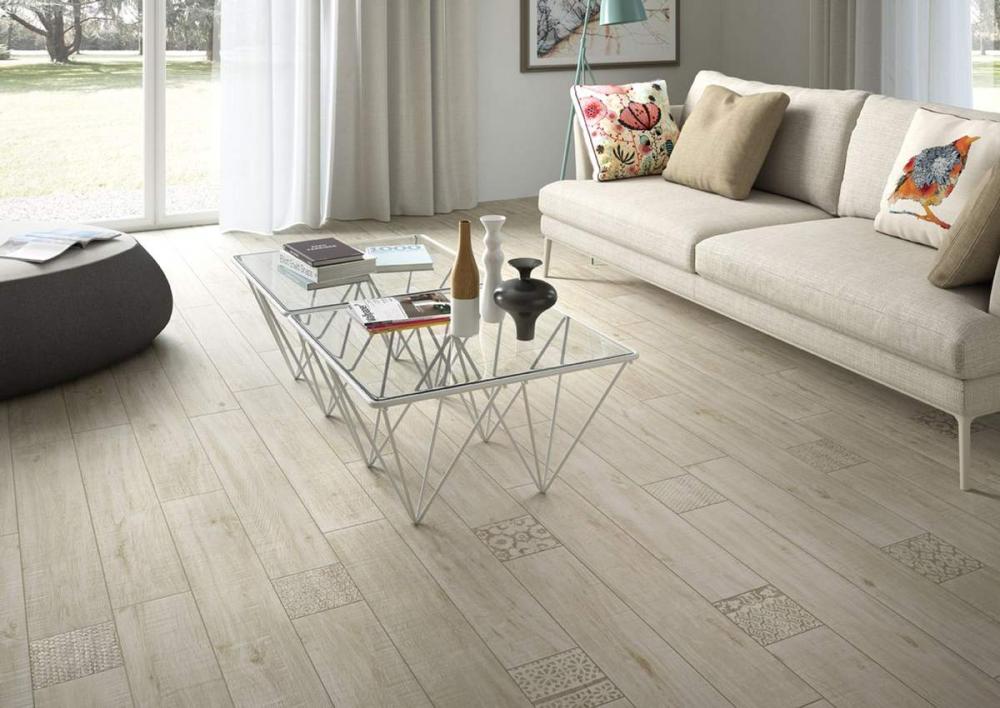 Wood-like floor tiles are eagerly chosen by people who care about the natural environment, and at the same time want to arrange a cozy and practical space. Tiling that looks like wood is also a great idea for rooms, such as a kitchen, living room, bedroom or hallway. Its strong suit is not only its high technical parameters, but also its design, which is due to a perfectly refined print that faithfully reflects the structure of wood. Clearly reproduced growth rings and knots look great, enhance the aesthetics of the interior, and at the same time are an exceptionally universal decorative accent. Wood-like tiles have the ability to adapt to a variety of interior styles and fit perfectly into both modern and classic arrangements. They also deserve attention due to their resistance to water, abrasion, temperature and humidity. You can create interesting patterns with the use of wood-like tiles, as they come in both small and large formats, and are available in various shapes, such as rectangles, squares, hexagons and diamond shapes.
Timeless classic or a modern interior with tiles imitating wood?
With the help of wood-like tiles produced in the formats of floorboards, you can get a floor that perfectly complements both classic and modern spaces. Tiles that imitate wood, just like regular floorboards, come as single strip or three strip planks. The first of the two are deceptively similar to solid wood boards, and therefore are usually chosen by people who value traditional solutions and want to decorate their interior in a minimalist or Scandinavian style. With the help of 3-strip tiles, a relatively dense parquet-like pattern can be obtained. Single strip wood-like tiles are the perfect choice for bathrooms and kitchens, while 3-strip tiles look best in a living room or a dining room. Regardless of the style in which you're arranging your interiors, tiles imitating wood, available in many colors and patterns, are an example of a finishing material that is worth paying attention to.
Why tiles and not natural wood?
Wood-like tiles are appreciated by nature lovers and allow them to arrange an elegant and functional living space. They are the best solution for homes with underfloor heating. Tiles that imitate wood are easy to keep clean as they do not absorb water or dust. They are free of allergenic mites, fungi and bacteria, because the smooth enamel covering the tiles is an extremely difficult substrate for the development of microorganisms. In addition, walls or floors finished with wood-like tiles guarantee high utility values, attractive appearance and durability. Another important advantage is that they do not require sanding and varnishing, as natural wooden materials usually do. They do not require any special caring or preserving treatments.
Functionality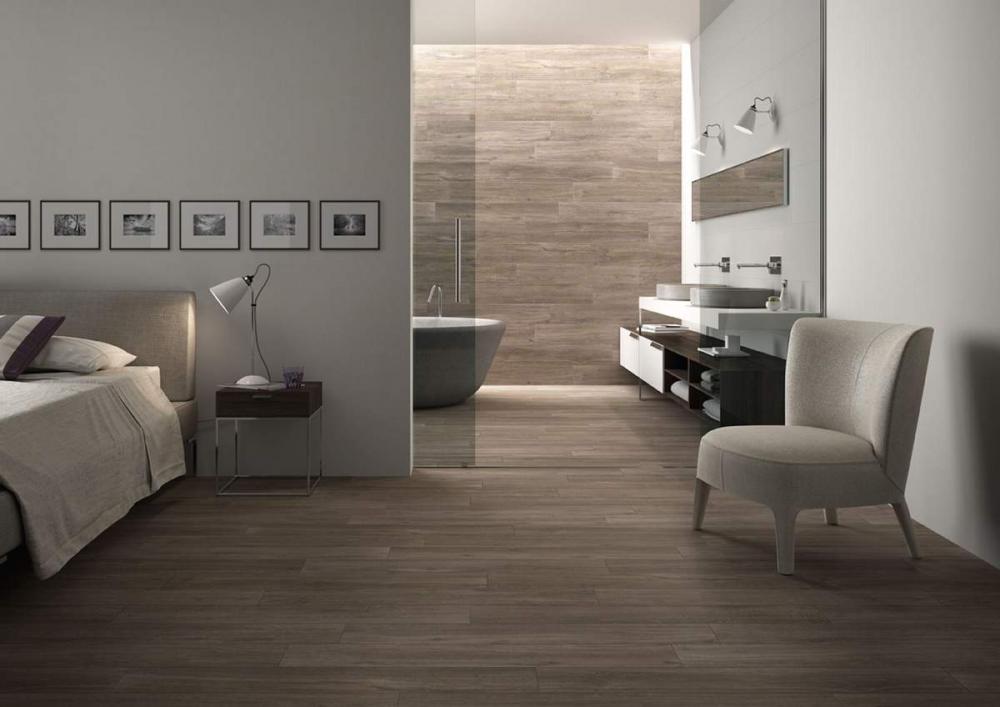 What is very important, when deciding to choose wood-like ceramic tiles, is the fact that you won't have to worry about utility issues and problems that generally arise from the use of natural wood in a room with above-average humidity. The tiles are absolutely resistant not only to moisture or single drops, but even to direct and long-term exposure to water. They are not afraid of high temperature or temperature fluctuations.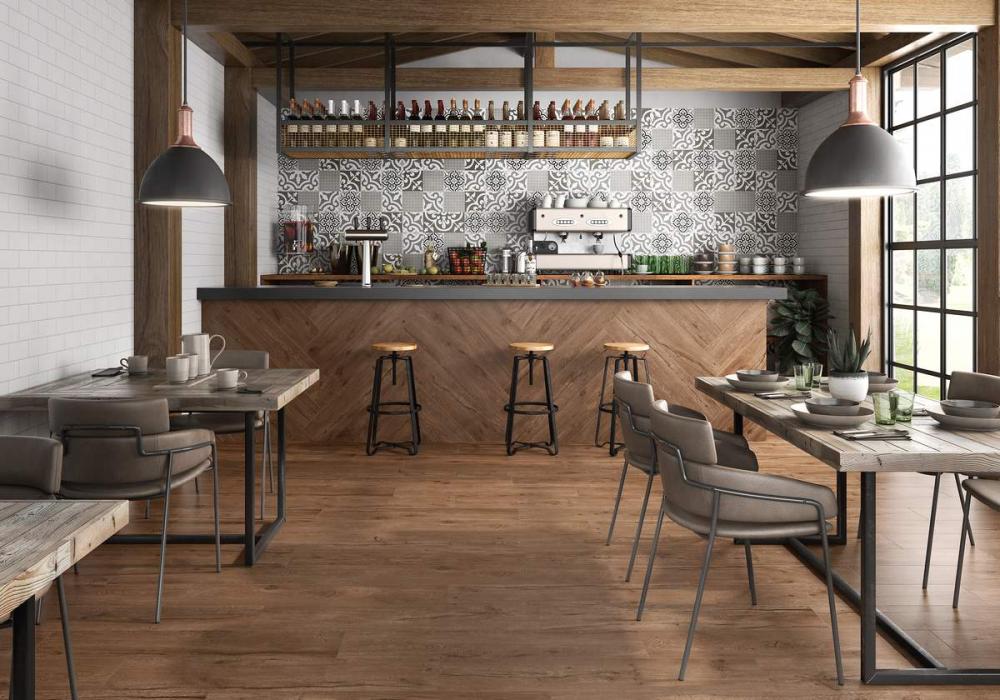 They are easy to clean and keep in good condition. Moreover, the use of wood-like floor tiles contribute to the safety of the household with their non-slip surface. This is a very important issue, especially when we want to put them in the bathing area, or a fashionable walk-in shower. These tiles are also perfect for other interiors, such as a bedroom, office, kitchen and even a living room, creating a beautiful and coherent basis for the entire house or apartment.
Wood-like European Ceramic Tiles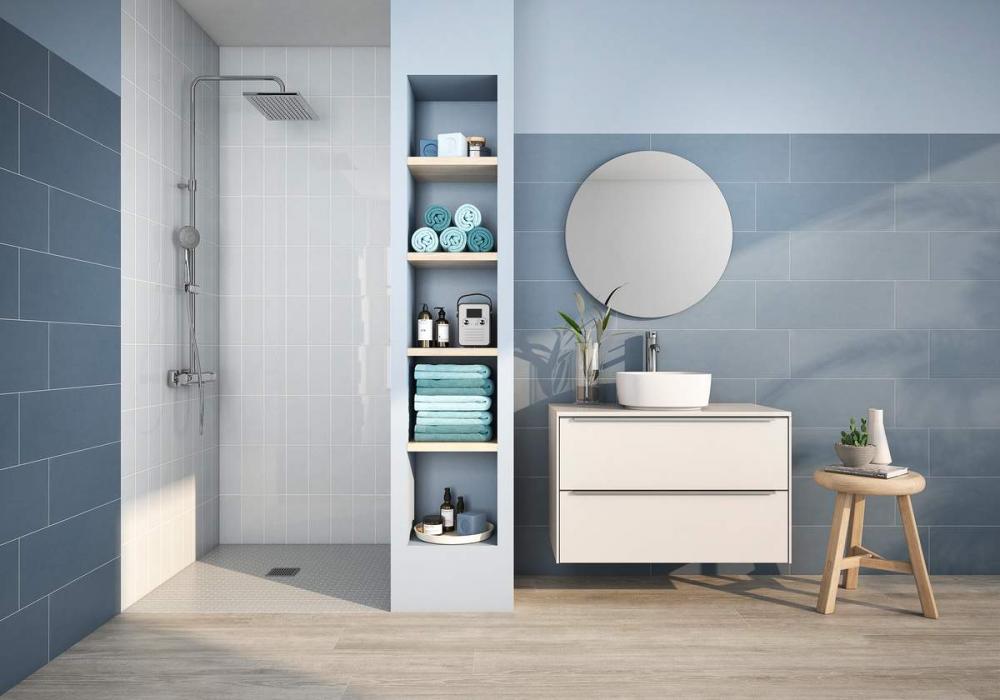 At Majestic Tiles LMP INC. we offer a wide selection of tiles imitating wood with a variety of colors and textures. The assortment of our bathroom and tile showroom includes ceramic wall and floor tiles in various colors, backsplash, kitchen tiles, mosaic and slate tiles. We offer European tiles from leading manufacturers (Roca, Imola, Cerrad, Stargres). However, it is worth remembering that the colors of the walls and floors should match the bathroom ceramics as well. That's why for elegant bathrooms, we also recommend classy European bathroom furniture, which is also available at our showroom.
Give us a call today and schedule an appointment with one of our designers!
The Best Tiling Contractors and Unique Tile Store Chicago
When looking for a contractor specializing in laying out European ceramic tiles and porcelain pavers in Chicago, we invite you to visit our bathroom and tile showroom and meet with our team.
Call us at (773) 987-5994 or (847) 778-2445 to schedule an appointment or simply stop by!