Dust, dirt and limescale settle on ceramic tiles, and mold is eager to develop in joints when exposed to moisture. How to deal with these types of impurities? Read on to find out about methods of cleaning ceramic tiles. Kitchen and bathroom porcelain tiles covering walls and floors are exposed to a wide array of contaminants and mechanical impacts, although water and scale build-up are present in both of these interiors. In the kitchen, the tiles must also be cleaned from grease and dirt produced while cooking, whereas in the bathroom splashing water can leave stains and soap deposits. However, there is a solution to every problem. Here's what you can do to make your tiles sparkle and shine once again.
What to use to clean porcelain tiles?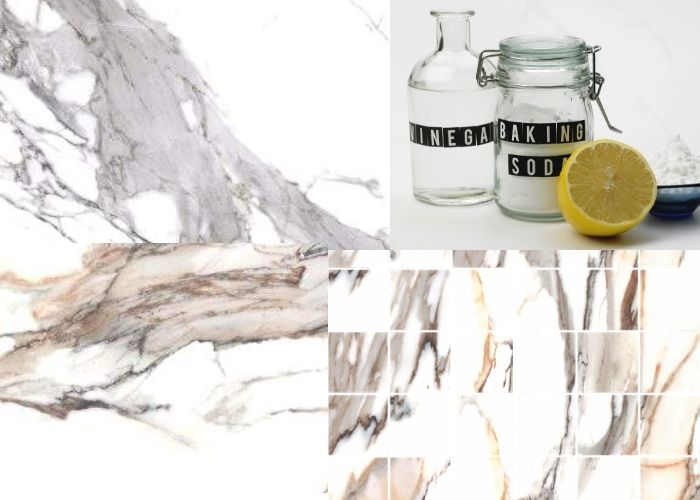 How quickly you notice dirt on tiles depends primarily on their "shine level". Glossy tiles show imperfections very quickly, even if you only walk over them once. Although their cleaning and maintenance may be a bit more troublesome, the results of using special solutions and products are amazing. Matt surfaces, on the other hand, seem much easier to clean, but that doesn't mean they don't have to be cared for.
Sponge or cloth?
A soft sponge or a microfiber cloth will be useful for everyday cleaning. It is important that it does not fray, as its fibers might remain in the joints. Also, have paper kitchen towels on hand to dry the surface to prevent smudging. Remember to rinse sponges and cloths thoroughly after washing. To make sure they are clean, you can also soak them in a bowl of warm water with baking soda or wash them at a high temperature in a washing machine. Remember to dry the cloths well in a dryer or on a radiator.
Natural tile cleaning agents that you have at home
If you're striving to make your home as green as possible, we have ways to clean tiles that our moms and grandmothers have used successfully and continue to be effective today. Here are our ideas for natural cleaning products.
Baking soda and vinegar are a perfect duo
Baking soda combined with vinegar will make your bathroom and kitchen tiles shine. You can add a few drops of essential oil to this mixture. Especially lemon, orange or lemongrass oils neutralize the intense smell of vinegar, making cleaning a more pleasant experience. Vinegar and baking soda are perfect not only in the bathroom, but also in the kitchen. With their help, you can thoroughly clean the sink and countertops as well.
Vinegar will quickly remove soap residue and limescale. It is a perfect, ecological home cleaning agent that will make you no longer have to worry about how to clean the tiles to make them sparkling clean and glossy. It will also make mirrors, windows and other glass surfaces shine. Vinegar will also remove grease and mold in the kitchen. Vinegar is a hero ingredient when it comes to cleaning!
Baking soda is also a great cleaner that has cleansing and softening properties. It will allow you to deal with limescale and mineral buildup in the bathroom. Make a mixture with 3 parts of baking soda and a part of water. Depending on how dirty the bathroom is, you can either scrub the tiles or leave it on the surface for a few hours or overnight.
Heavily contaminated kitchen tiles can be covered with a thick layer of accumulated grease, which is a real challenge during home cleaning.
However, if you stock up on specialized preparations that dissolve even tough, strongly adhered oil stains, then you will not have to scrub and scrape hard. Special products dedicated for cleaning kitchens and ovens have properties that allow you to cut through the dirt build-up accumulated on the surface of the tiles. They should be left for a few moments on the surface and then thoroughly wiped down with a soft cloth or paper towel. It is also good to choose chemicals that create an active foam. A great home remedy is to clean the ceramic tiles with products found in your pantry, such a combination of water and vinegar or baking soda. A mixture of vinegar and water will do the job.
In the bathroom, the floor and wall areas near the bathtub, shower and sink are the most exposed to dirt. Splashing and evaporating water can reach quite high and cover the surfaces in a fairly wide range. If you have hard water in your home, limescale deposits will be even more abundant. Soap deposits also form a stubborn layer to clean off. Bathroom cleaning products are designed to address problems associated with cleaning limescale and soap and water buildup stains. When applied, the agent reacts and begins to foam. During this time, the limescale dissolves and the stains are removed without the need for repeating the process.
Instead of using store-bought chemicals, you can also use vinegar. On heavily dirtied tiles, use only vinegar. A 1:1 solution of water with vinegar is sufficient for less dirty tiles. This way you will get rid of most stains, dirt and sediment.
Cleaning stained grout
Grout is porous, so it easily traps dirt, grime, and soap scum making it look quite unsightly. A used toothbrush is the best tool to clean stained joints. Scrubbing with a universal cleaning agent is extremely tiring, and additionally can cause crumbling and destruction of the material. Therefore, it is good to use a product that is specially designed to clean tile grout, which will effectively clean dirt, mold and bacteria.
However, as in most cases instead of using chemicals, you can use baking soda. Mix water and baking soda to form a paste. Apply it on the joints and leave it overnight. In the morning, simply wipe the joints with a damp cloth and the stains and dirt will disappear. An equally effective way is to use ammonia. Dissolve half a glass in a 33 oz of water. The solution can be used to clean not only the joints, but also the entire surfaces of the tiles. It will make your bathroom tiling look like new again.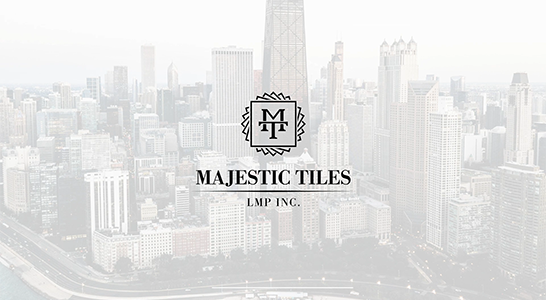 Majestic Tiles LMP INC. is specialized in installing unique tiles that will last as long as your home does. It's important to clean and maintain ceramic tiles so they sparkle and look good as new throughout their entire lifespan. We're a team of tile experts, so if you have any questions about how to take care of your tiling or are planning to remodel – give us a call today and we'll be glad to help you out.