There are many different ways to heat your home – a heat pump, a central warm air furnace, heating stove, fireplace or an underfloor heating can all be a direct source of heat. Each choice has certain advantages and disadvantages. For example, radiators can take up quite a bit of space in a small interior, or when deciding on a traditional fireplace, you must keep up with regular cleaning and maintenance.
Underfloor heating is economical, and at the same time one of the least troublesome ways of providing heat for your home. The entire space of walls and floors is at your disposal. Rooms are heated evenly, without the in-floor heating system design being visible. Moreover, underfloor heating is more energy efficient and cheaper to run.
However, it is important to realize that floor heating comes with selecting the appropriate flooring material, so that it can properly do its job. Tiles are proven to be the best flooring material for underfloor heating as they are characterized by low thermal resistance. So what kind of tiles is floor heating best paired with? What parameters should be considered when choosing the appropriate tile model?
The Best Tiles For Underfloor Heating
The best tile material that will work with a modern floor heating system is ceramic or porcelain tiles. These materials are the best mainly due to the fact that they are the most thermally conductive, allowing the heat to transfer quickly to the floor's surface. Moreover they're characterized by high abrasion and chemical resistance and are able to withstand a very high load, so they're a great investment that can decorate an interior for years.
However, thermal conductivity is the most important when it comes to pairing tiles with underfloor heating. In porcelain tiles, it reaches a very high level, and even if the temperature is very high, ceramic tiles will not deform, will not crack, and will not change their appearance at all. Additionally, porcelain tiles and ceramic tiles stay warm for a long time, so if we turn on the heating and then turn it off, these tiles will keep the heat in for a long time. And of course, at the end, it is worth bearing in mind that they are eco-friendly as well as very energy-efficient.
It Not All About The Tiles…
The tiles themselves are one thing, but choosing the right ones does not guarantee our full satisfaction when it comes to floor heating. The floor should be properly prepared for this, so that the whole thing can work as efficiently as possible. It is definitely important that the floor consists of several layers. There should be a cement layer at the bottom, while at the top there should be a layer self-leveling mortar. But that's not all. Next, there should be a self-levelling primer, and then a priming glaze. It is very important to choose the right glue, which will give you the desired effect. This entire base can now be covered with the selected tiles.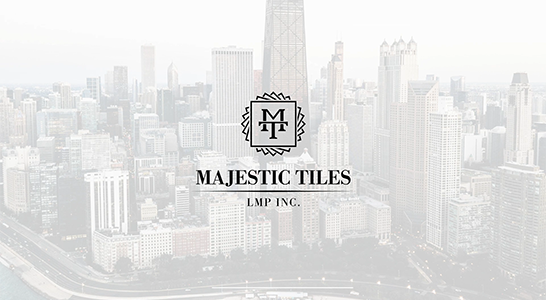 When choosing tiles, it's important to seek out the best tile store in your area to get the best offer with the best prices. Not all tiles are created equal, and selecting a product isn't simply a matter of choosing a preferred color. One thing should be the first consideration when buying new tiles is choosing the right store. The best tile store in Chicago will give you a lot of options to choose from. Tiles vary not only on the basis of their looks and designs, but also on their quality and resistance.
So what features should a good store have? The most important thing is the offer. The greater the choice, the bigger possibility that you will find tiles that are the perfect fit for your home. Another very important aspect is the price. Affordability is important to us, and we always want to choose the highest quality materials, which are also available at a price that won't break the bank. At Majestic Tiles our offer is wide and attractive and everyone can find what they need. Here you will find expert tile advice and knowledge for a variety of designs and recommendations. Everything you need is available at Majestic Tiles – the best ceramic tile store in Chicago. So don't hesitate and give us a call right away. We'll happily advise the best tile options for your next project.
Design isn't the only thing that's impressive about Majestic Tiles' porcelain tiles. When choosing the right tile material for your underfloor heating system you want it not only to look GOOD, but you want a solution that will perfectly match the entire interior in every respect. So choose the right color, pattern, or style to create something really perfect. Moreover, once you know what you're looking for in terms of appearance, another, very important element is paying attention to these parameters that will allow us to fully take advantage of the potential and possibilities of underfloor heating. Keeping the tiles warm for a long time, fast heating, and a floor that will last for many years, are the most important things that every customer should focus on. At Majestic Tiles we can give you all of that… and a customer service that you'll never forget.
Buying The Best Tile For Your Floor Heating System
If you want your underfloor heating to perfectly work together with beautiful, eco-friendly, and durable flooring – choose Majestic Tiles' ceramic and porcelain tiles. We'll help you match the tiles perfectly to your needs and preferences. By reaching out to us, you will surely receive a rich and varied offer that will meet even the most demanding projects. Call us today and ask us about what you can do for your floors if you're planning to install a floor heating system. Our advisors will be glad to offer you help and advice.