Marble is one of the hottest interior design trends in the recent years. Just a small area of a wall decorated with this precious stone is enough to add extraordinary character and elegance to any interior. It looks great regardless of the overall style – it is used by both minimalist enthusiasts, as well as glamour and scandinavian style lovers. Unfortunately, due to the high price of this material, not everyone can afford to use it in their homes. But… good news! There is a solution for a limited budget. Tiles imitating marble are deceptively similar to the natural stone and offer a gorgeous variety of patterns and colors.
If you want your interior to look more elegant and exclusive, choosing marble-like tiles will be a great solution. Porcelain tiles that imitate marble are an ideal solution for both small and slightly larger interiors, which is why they look great in bathrooms, kitchens, as well as hallways and even in spacious living rooms.
Marble Tiles: Properties and Advantages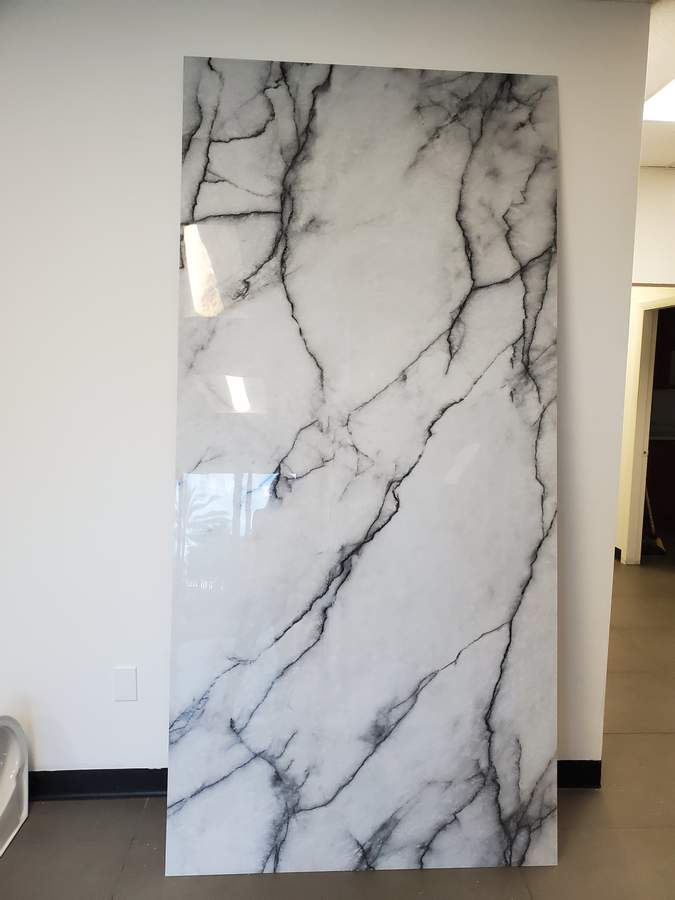 Marble is a very noble and elegant stone. It was used in the construction of the Parthenon, the Taj Mahal, the temple of Olympus, the Theseum, the Washington Monument, and many other world-famous buildings. Marble has many decorative and structural uses and is a very trendy finish in both design and architecture. Its great advantage is the variety of colors and shades. Different types of stone will allow you to use contrasts and bold solutions. It also comes in delicate and subdued colors such as beige, gray and shades of white.
The modern use of a marble pattern is significantly different from the historical ideas. Still elegant and stylish, marble can fit into an industrial, loft style, as well as modern interiors. You can combine marble tiles with intense colors, wood, metal and even soft fabrics! Marble should not be associated only with exclusive kitchen worktops or luxurious floors.
Natural marble is very expensive and quite brittle for a natural stone. Therefore, in interior design, we use marble-like tiles for bathrooms, kitchens, walls and floors more often than natural stone slabs.
Choosing marble-like tiles during your next remodeling project gives you many options. Tiles imitating stone or marble tiles will appeal not only to appreciators of ascetic interiors, but also to people who like delicate elegance and chic neoclassic themes.
The most common uses of marble tiles in the home are:
large-format floors in the kitchen, bathrooms and hallways
stairs
kitchen and bathroom countertops
window sills
foyers
fireplace areas
front entryway
Although marble-like ceramic tiles are most often used for floors, they also find their application on walls and other sloping surfaces.
At Majestic Tiles we work with the best European tile manufacturers that offer a wide range of colors and sizes of marble-like tiles that you can use both as floor tiles and wall tiles. They can be both an accent and a base in the design of almost any interior. Thanks to such a rich offer, at Majestic Tiles everyone will find something to suit their individual taste and requirements. Read on to find some inspirations and ideas for your home!
Black & Marble: The Perfect Duo
One of the most classic combinations is the exceptionally stylish marble and black duo. If you decide on marble wall tiles in light off-white or beige tones, focus on popping black accessories, such as faucets, washbasins, lamps or furniture. Black accessories on a subdued marble background will take on a completely new, exclusive look.
However, if you want marble to play the leading role in your interior – you can choose black marble tiles. Matte, shiny or with white or gold veinings – there are so many options to choose from! Shiny veins embedded in matte tiles introduce an element of dynamism and life into luxurious, lavish interiors.
Remember that black tiles will not work well in small and poorly lit interiors. Only spacious interiors with plenty of natural light will allow them to shine with true beauty.
Marble Paired With A Pattern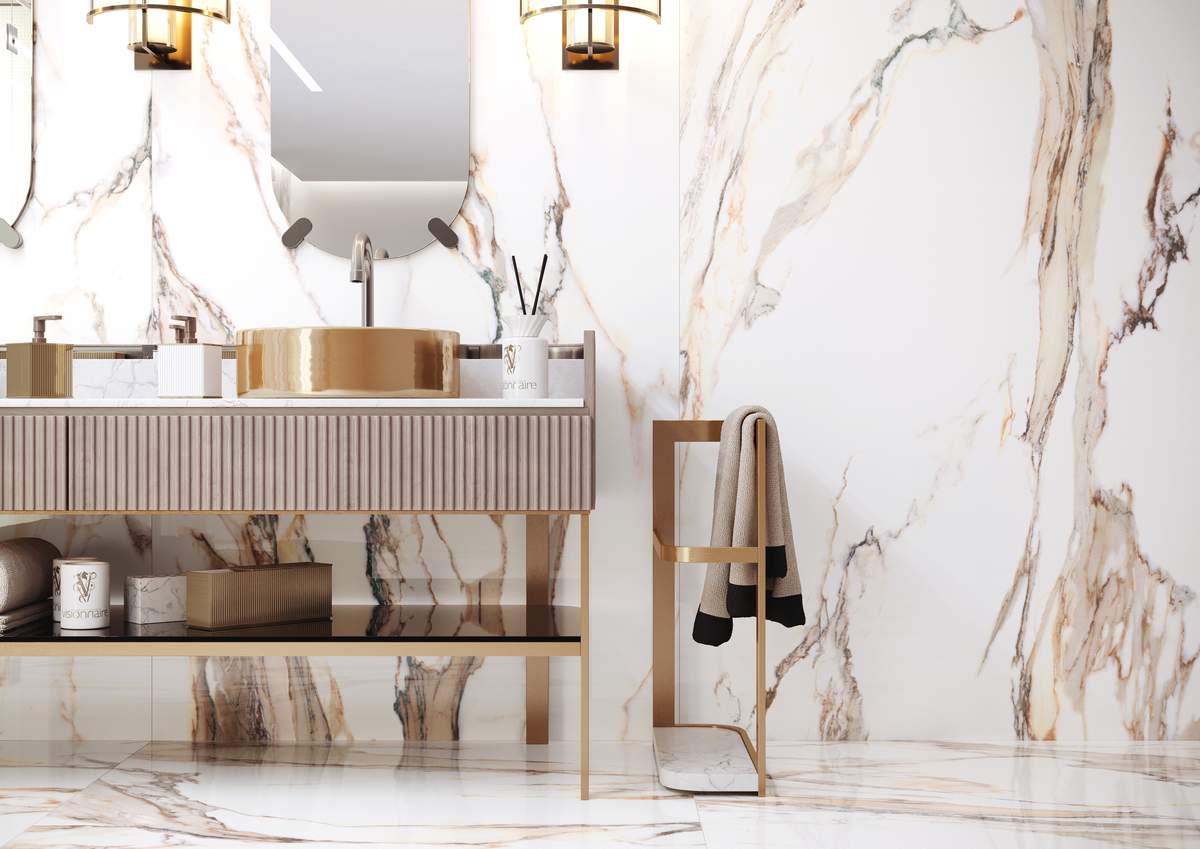 Another great pairing, especially recommended for bathrooms, is a combination of marble with a strong pattern, for example on the floor. The geometric shapes on the floor will help to break the severity and loftiness of the marble walls. However, a combination of subtle walls and patterned flooring is not necessarily the rule. The delicate texture of marble perfectly matches a geometric pattern also within the same wall. Combining marble with fashionable hexagons or mosaics will additionally transform and update any room in your Chicago home.
Combining Color Palettes With Marble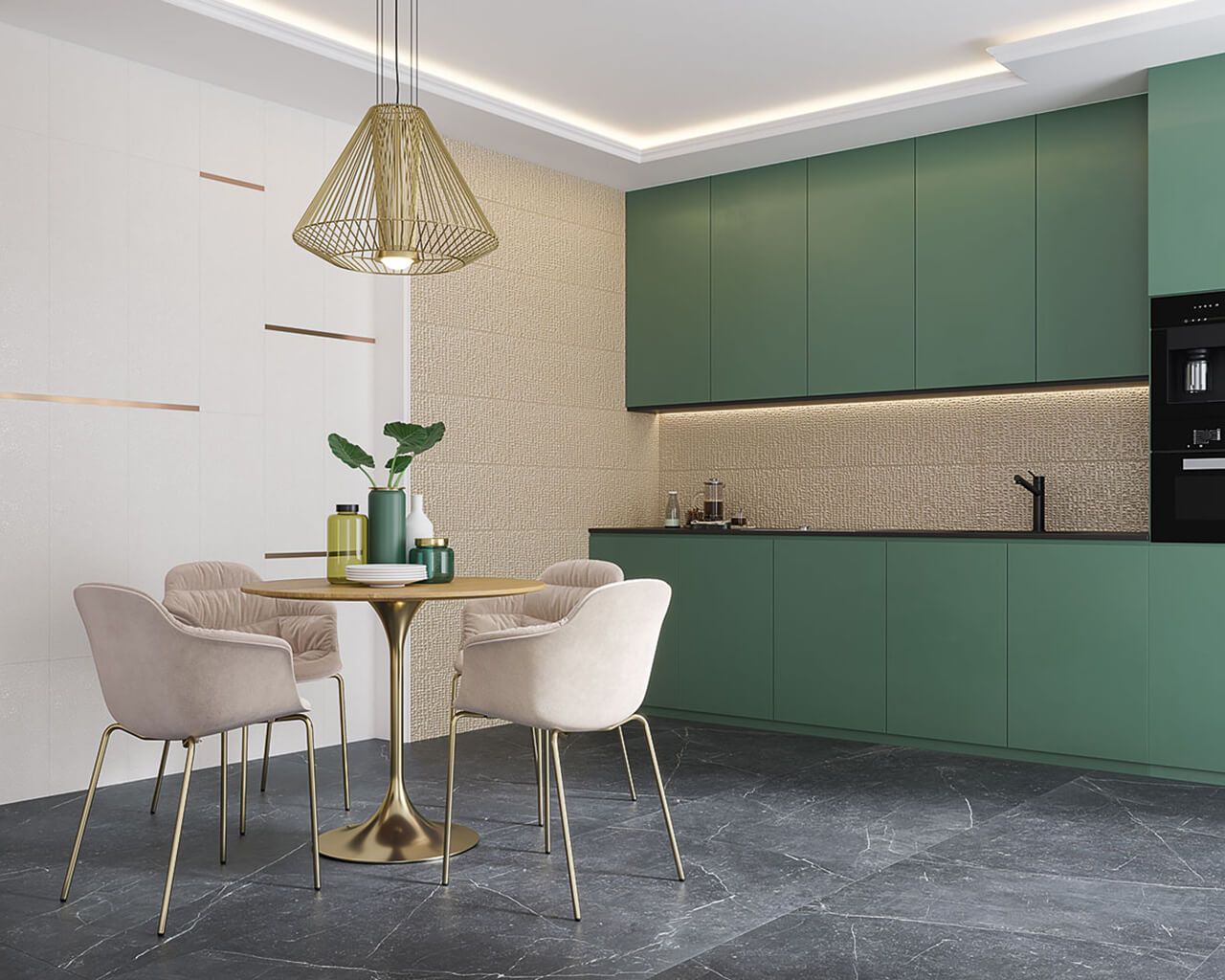 The sublime beauty of marble will be wonderfully emphasized not only by neutral colors, but also by intense shades of blue and forest green. It is a bold, modern combination that will break the formalness and minimalism of the interior. The amount of intense color you bring into the interior is also important. Usually, one piece of furniture or literally several decorations is enough not to overdo it, but only to emphasize the color and texture of natural stone. Large tiles will additionally give the space a sense of harmony, freshness and refinement.
Double Luxury: A Combination Of Marble and Gold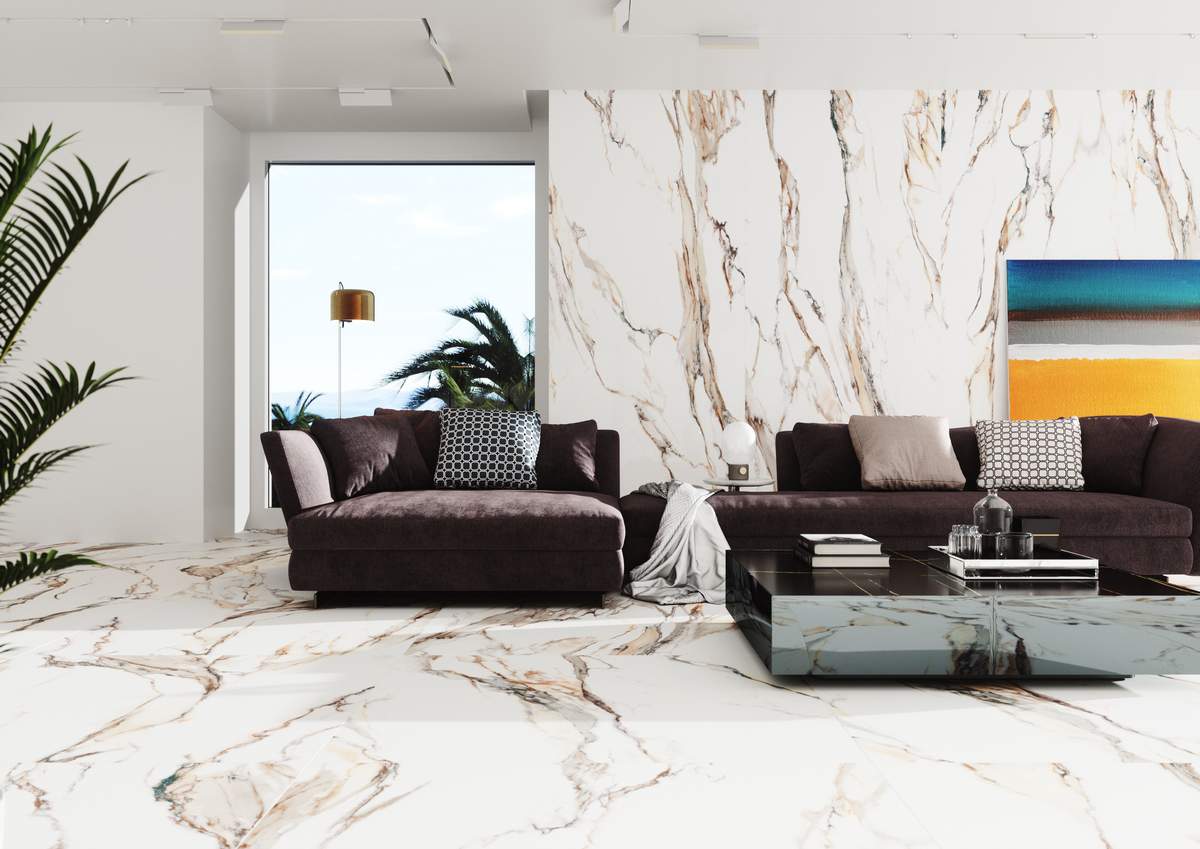 Marble and gold in a simple, minimalist form is a combination that creates interiors full of splendor – without exaggerated glamor. Golden accessories, such as mirror frames, decorative lamps, fittings and furniture elements perfectly match both white and black marble. However, remember to be moderate in the amount of gold elements and choose only high-quality decorations.
Marble-like tiles are an exceptionally fashionable and stylish material that, when thoughtfully combined, will add style and character to any room. Its greatest advantage is versatility: tiles that imitate marble can be paired with both neutral and expressive colors, they look good with modern, geometric patterns, as well as in combination with elegant black, gold and stylish bottle green. If you think that your interiors will need a bit of glitz and sophisticated elegance – reach for marble ceramic tiles from Majestic Tiles and watch your interiors gain splendor.