Designed with a European contemporary style, porcelain architectural slabs are suitable for both commercial and residential designs in areas such as pedestrian walkways, patios, poolsides, and outdoor living areas.
Majestic Tiles LMP Inc. Offers Porcelain Pavers To Help Give Your Project The Modern Look.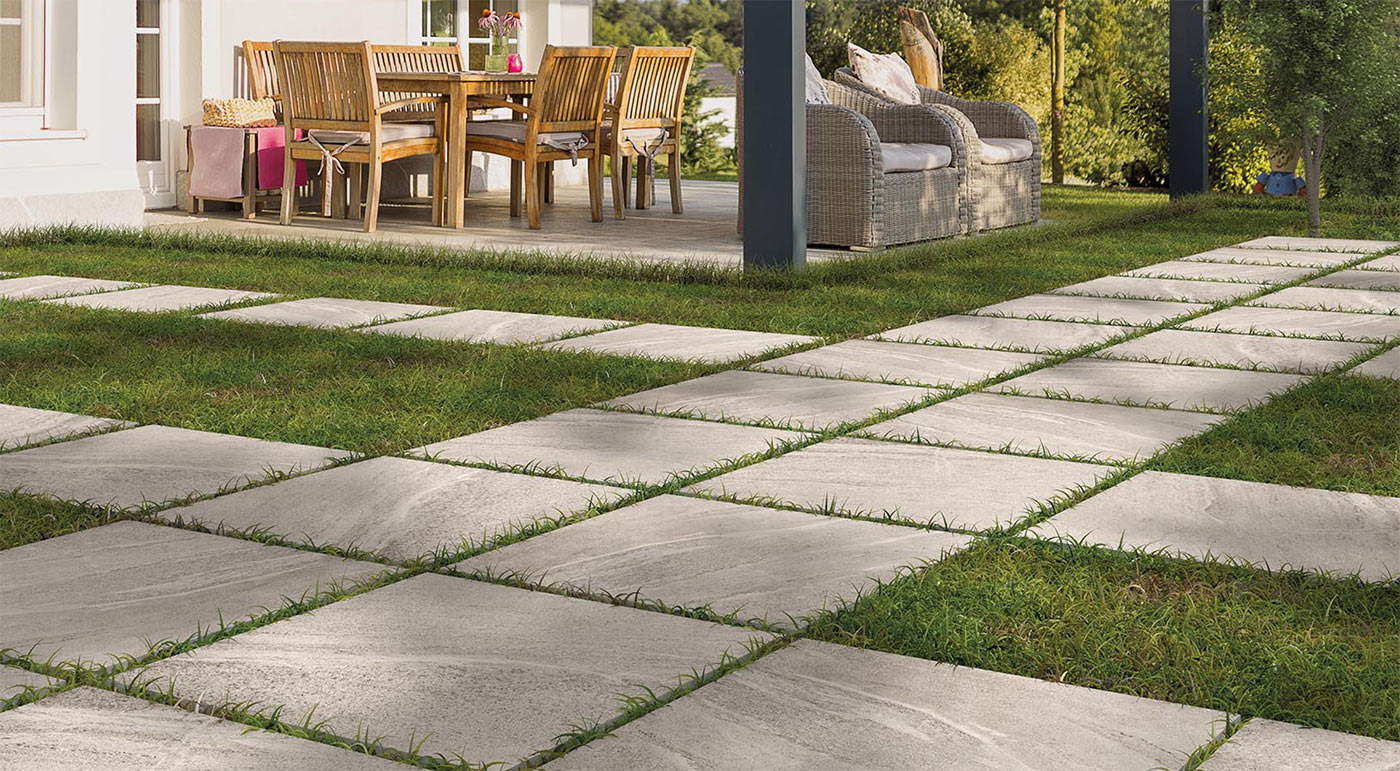 Imported directly from Italy, porcelain architectural slabs elevate outdoor living atmospheres to a new level of sophistication. If you're building a new contemporary home or upgrading your space to give it an avant-garde look consider using porcelain pavers for your patio, walkway, or pool surround because they combine excellent technical performance and a unique aesthetic appeal. Our versatile range of porcelain tiles meet the evolved needs of indoor and outdoor design projects creatively and functionally.
You can get a variety of looks with porcelain slabs, mosaic tile outlet, from wood to concrete to stone. Our porcelain pavers supplier reproduces the details of the material of inspiration with extreme naturalness. Porcelain series have the appearance of natural wood planks so they breathe new life into modern, cutting-edge projects by offering intriguing chromatic contrasts to other materials. Our Trust and Brave series is inspired by natural stone and provides lush and enchanting details to your environment.
Porcelain pavers are stronger and lighter than concrete, easy to clean, and slip-resistant. Additionally, they are 20mm thick making them light and easy to install. If you think porcelain pavers would be the key to your ultra-modern project and want more information, come into one of our showrooms and check them out or download our sales sheet.
Discovering Porcelain Pavers
We remember the first time a customer asked what we thought of using porcelain pavers for an outdoor project. The customer knew he didn't want natural stone, and he'd heard that porcelain was durable, requiring little maintenance. He was not very familiar with the material, but was intrigued, so after hearing more about it, he liked what he saw.
That was six years ago. Using porcelain pavers outdoors was unheard of here in the Northeast. "The choices were few, availability was low, and prices were on the high side. But I could see the potential."
Today, pavers made of porcelain—a chameleon-like product that can mimic the look of concrete, wood, and natural stone including bluestone, slate, travertine, limestone, and sandstone—are in high demand. Porcelain pavers are more than beautiful. "Their functionality is outstanding. They're stronger than natural stone, non-slip, and easy to clean. Plus, they resist moss, mold, and mildew, and they're not susceptible to freezing. The appeal is understandable."
The Benefits of Porcelain Pavers
Simply put, porcelain pavers are very dense tiles made of high-grade porcelain fired at thousands of degrees, making them hardwearing and an excellent choice for outdoor construction or renovation projects. They can be used on everything from roof decks, terraces, and balconies, to walkways and pool-deck areas. Porcelain pavers have so many good properties, it's hard to know where to begin.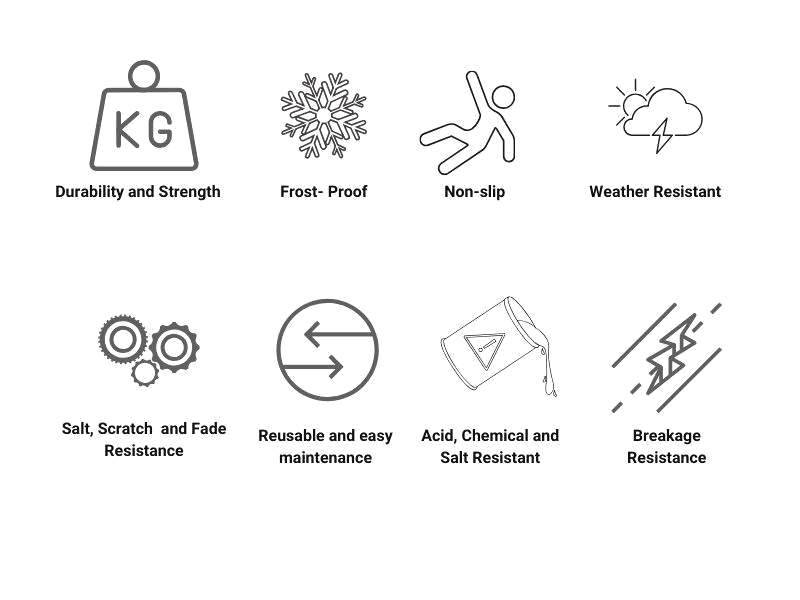 They're naturally sealed and non-porous.
They resist harsh weather conditions and won't crack like natural stone. They can even be treated with ice melt without adverse effects.
They're non-staining. If a pet has an accident on the patio, you can wash it off with no mess.
They're non-slip, which makes them great for spaces that get a lot of use, especially from children. They're an excellent choice for high-traffic areas and spaces used for entertaining.
They're easy to clean; brushing with warm soapy water is often all that's required to keep them looking new.
They stay cool in summer, so they're perfect around pools.
High-definition finishes won't fade—even when exposed directly to sunlight for long periods.
For decades, porcelain was used primarily indoors—in kitchens, mudrooms, entryways, and baths. It was adapted to suit various design styles, so it's not surprising it would eventually find its way into a variety of alfresco applications. The ability to create custom patterns is a captivating feature. Porcelain may have started as a darling of contemporary design, but the explosion of colors, sizes, and shapes has left no style stone unturned. We find they're being used increasingly in indoor/outdoor spaces, and because they suit both casual and sophisticated environments, they're the go-to material for today's modern farmhouse style.
A Designer Chooses Porcelain Pavers
Diane Rath of The Rath Project recently discovered Gault's outdoor porcelain collection for her family's home. "When we began looking for material to complete a pool surround and patio, we thought for sure that bluestone would be our pick—it's beautiful, classic, and complements the colors of our midcentury ranch. Yet, when we met with Estuardo, who brought us inside to view the porcelain collection, we were astounded that those 24 x 24 tiles weren't actual bluestone! And once we learned about the durability, we were in," says Rath.
"As an interior designer, a goal that I take very seriously to achieve on each project is finding harmony in both form and function. Therefore, it was a real treat to find a product that's just as appealing to the eye as it is to our busy, sometimes messy lifestyles. And knowing that we had come across an outdoor tile, that we excitedly used in our own home, that I can also recommend to any of my clients is a huge win," Rath says enthusiastically.
Price-wise, porcelain pavers come in at a very reasonable cost for the quality they provide. And there's another good reason to choose them. Porcelain pavers are made in the United States, in independent factories dedicated to their manufacturer, because of that, I'm pleased to say we can keep up with the demand.
Porcelain Pavers Come in Many Styles
For the best selection of porcelain pavers—including color, size, style, texture, and finish—Majestic Tiles LMP Inc., with a showroom located in Wheeling, IL, has you covered. Here is just some of what we offer:
Bluestone: Smooth, tumbled, or cobblestone finishes; square or multi-size cube patterns; sizes available are twelve by twenty-four inches, twenty-four by twenty-four inches, and twenty-four by forty-eight inches.
Travertine: Crosscut pattern in colors ranging from silver and cream to tan; available in twenty-four by twenty-four inches.
Quartz: Sizes include twelve by twenty-four inches, eighteen by twenty-six inches, and twenty-four by twenty-four inches.
Stone looks in a variety of colors: Sizes include twenty-four by twenty-four and eighteen by thirty-six inches.
Wood: Light and dark shades, available in twelve by forty-eight inches and twenty-four by twenty-four inches.
And since not all pavers are created equally, we're debunking popular misconceptions by zooming in on the gold standard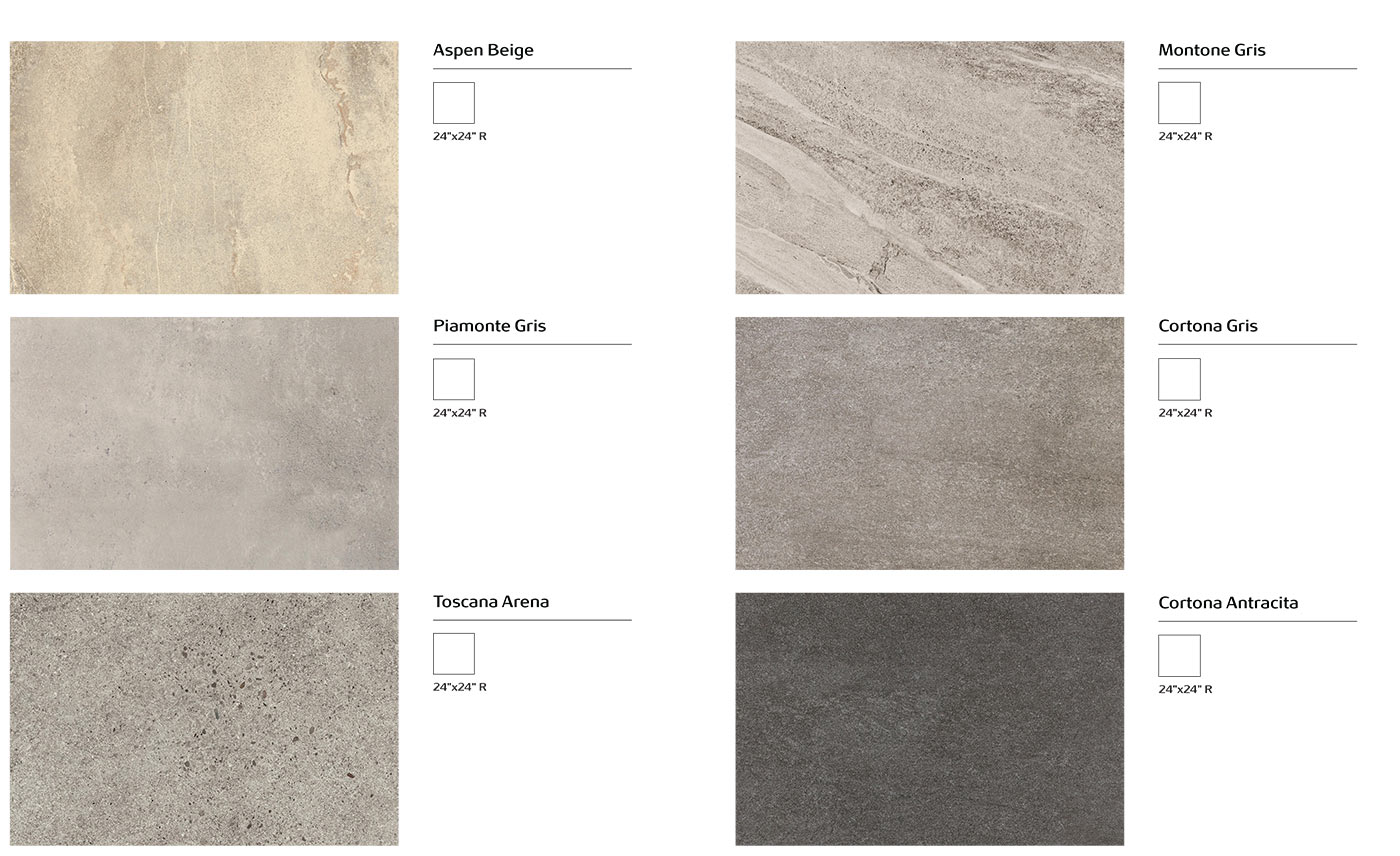 MYTH #1. Porcelain surfaces are too hot underfoot for high temp climates like Tempe, AZ.
FACT: Colors—more than material—determine ground surface temperature. Testing indicates that porcelain pavers are comparable to natural stone pavers of the same color. (Dark-hued natural stone pavers generate higher surface temperatures than paler counterparts.)
Porcelain pavers are also generally cooler to the touch than concrete pavers. In other words, if you live in a hot sunny place, light-colored pavers will be more comfortable underfoot. Synthetic grass is an anomaly: it's 36% hotter than our lightest porcelain paver, Tierra Ivory.
MYTH # 2. Porcelain pavers are slippery when wet.
FACT: Untrue. The surface texture of porcelain pavers is designed to be slip-resistant, even when wet. They are recommended for use by the pool, around the hot tub, and in other wet zones.
MYTH # 3. Porcelain pavers are not as durable as natural stone.
FACT: Due to extremely high temperatures during the manufacturing process, porcelain pavers are oftentimes stronger, more durable, and denser than natural stones. Because of their superior strength, they're ideal for commercial areas with high foot traffic, and driveways.
MYTH # 4. Porcelain pavers require sealing.
FACT: That's false. Sealing is unnecessary because, unlike natural stone and concrete, porcelain pavers are non-porous and virtually impenetrable.
MYTH # 5. Porcelain pavers aren't suitable for cold climates.
FACT: On the contrary, Arterra Porcelain Pavers are frost-tolerant. No matter how cold your winters are, freezing and thawing cycles won't crack the surface. (Extreme temperature fluctuations like the Northeast call for dense tiles.)
MYTH # 6. Porcelain Pavers require maintenance.
FACT: Our porcelain pavers have a non-porous surface so they're nearly maintenance-free. Because they're stain-resistant, you don't need to worry about discoloration due to water, mold, or mildew. They also resist chipping, scratches, and furniture marks. In contrast to wood, there's no need to worry about staining, sealing, termites, or splinters. Just hose them off with water occasionally, and that's it.
MYTH # 7. Porcelain pavers with wood and stone look have an unnatural appearance.
FACT: Porcelain Pavers use a high definition inkjet technology that produces vastly different results than the options that were available years ago – and that is still evident in entry-level products on the market right now.
Because our designs are a high-concept mix of art and technology, we're able to replicate the authentic characteristics of natural stone and wood down to the smallest detail. The result is an upscale high-style look that's both transformative and high-functioning.
MYTH # 8. Porcelain pavers fade in the sun.
FACT: Our glazed surface is both UV and fade-resistant. Because the glaze is baked on, the color will remain intact through many years of sun exposure.
MYTH #9. Porcelain pavers are unsuitable for high-traffic areas.
FACT: Arterra Porcelain Pavers possess a high wear rating so they're ideal for areas with heavy foot traffic – including commercial properties. The glazed surface is fired at 1200º F, ensuring a hard surface resistant to wear.
MYTH #10. Porcelain pavers require grout for installation.
FACT: Porcelain Pavers are easy to install because they don't require grout. They can be placed directly on grass or sand or installed over a concrete bed with mortar. To maximize versatility in both design and application, the collection is offered in three sizes (24" x 24"; 12" x 48"; 12" x 24")
MYTH #11. Porcelain pavers are costly.
FACT: Porcelain Pavers are competitively priced, and frequently more affordable than natural stone.
If you are still not sure if you should buy porcelain pavers, visit our news, our gallery and our website about porcelain pavers, to find out what will be best in your home.
Visit our site to see everything we have to offer so that you can choose the best size and colors of pavers for you.
For more information on how https://www.majestictiles.com can help you buy the best porcelain pavers, please visit our contact form or contact us.
466 Diens Drive
Wheeling, 60090, Illinois