In 2021 tile designers are more and more eager to experiment with new patterns and styles. The latest tile trends will transform your kitchen or bathroom into the most classy rooms of the house. Don't believe us? Here is an overview of the most trendy bathroom and kitchen tiles in 2021, which will make your space fresh and current.
The bathroom tile trends for 2021 are dominated by marble. As marble is a material that is as beautiful as it is absorbable and sensitive to damage, you can replace it with faithful imitations, e.g. in the form of marble-like porcelain tiles.
Bathroom tiles imitating marble can take any shape and size. In 2021, the most fashionable will be large-format tiles, which allow you to achieve the effect of a smooth marble surface. Large white plates optically enlarge a space, so feel free to use this type of finish when arranging or remodeling a small bathroom. A marble mosaic, on the other hand, can be used to separate a specific zone, e.g. a bathtub or a wall with a mirror. The bathroom floor can be decorated with tiles with a marble pattern in the shape of hexagons or rectangular slabs.
2. Structural tiles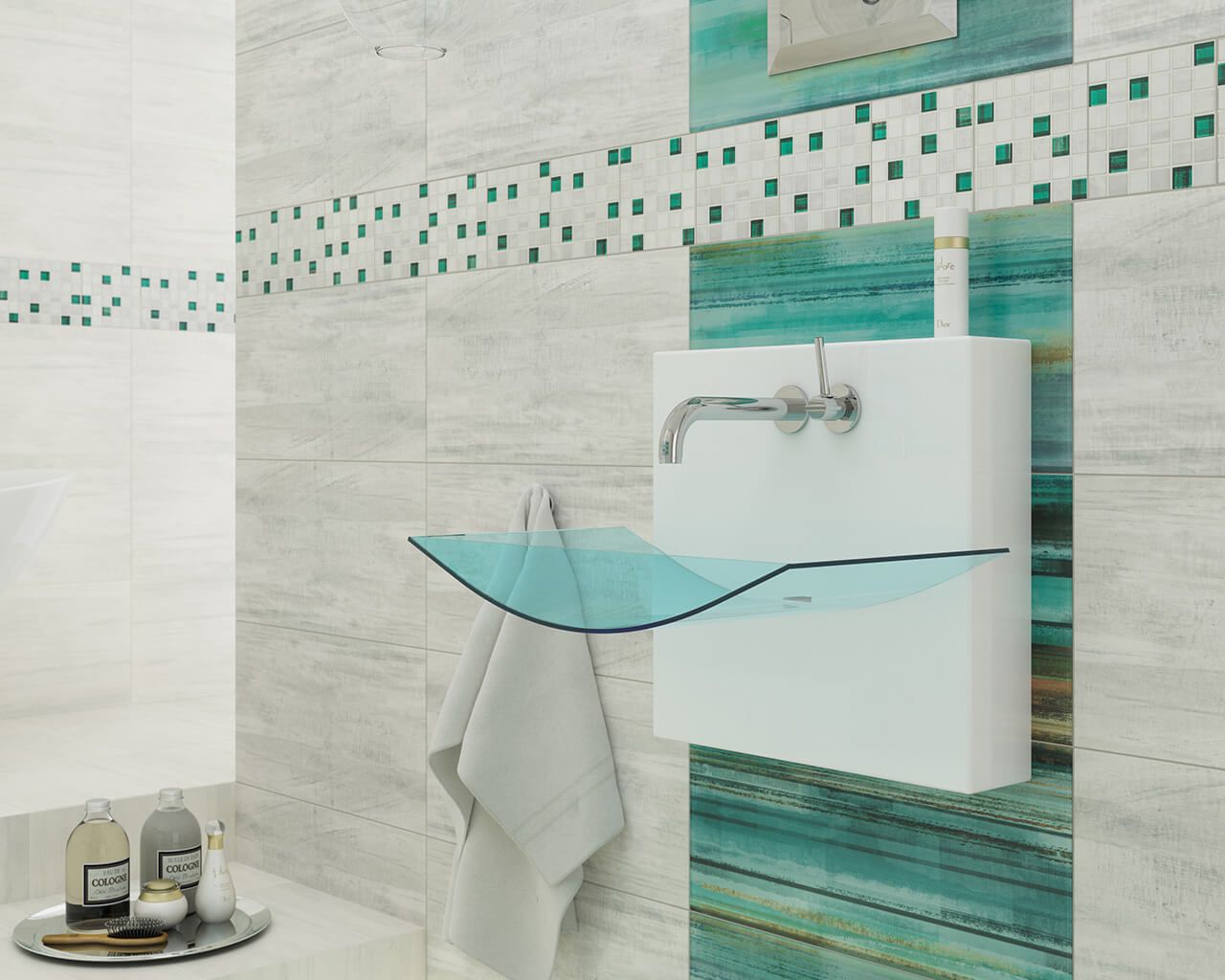 In 2021, structural tiles will still be in fashion. Compared to the tiles that decorated bathrooms in previous seasons, the new designs are definitely more delicate. 3D tiles no longer create dynamic three-dimensional compositions on the wall, they only slightly diversify its appearance.
The most trendy bathroom tiles in 2021 are covered with bulging stripes, geometric patterns, or a herringbone or arabesque motif. They look best when combined with smooth surfaces – whether in the form of simple tiles or a painted wall. Choose this type of unique tile if you want to delicately break a minimalist design or separate zones in the bathroom.
Moroccan zellige tiles cannot be ignored in 2021. Traditionally, zellige tiles are handcrafted – they have uneven edges and visible color differences, which give them their unique character.
Handcrafted tiles are expensive and difficult to obtain. However, manufacturers want to meet the market's expectations, so they've created collections inspired by Moroccan products, which are more affordable, but equally elegant. Zellige tiles come in various shapes, sizes and colors. Most often they are covered with a shiny glaze that beautifully brings out the color's depth.
Initially, these tiles were used to finish small surfaces, e.g. backsplashes. In 2021, zellige tiles spruce up entire kitchens, bathrooms and even living rooms. In combination with gold accessories and decorations, they bring a luxurious, slightly oriental atmosphere to the interior.
4. Square tiles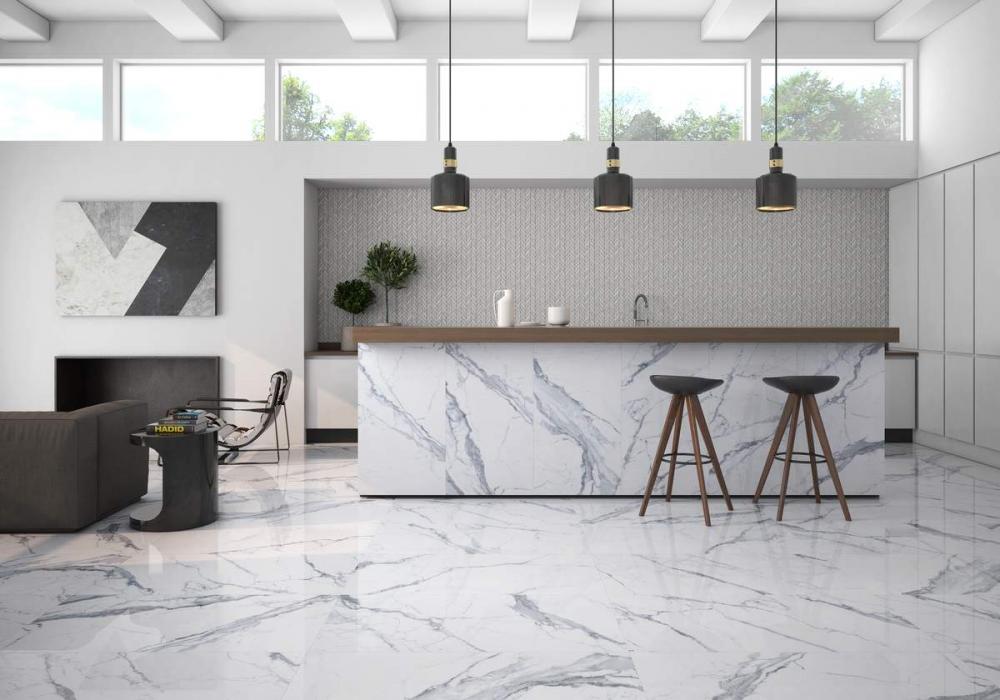 Square tiles are more and more often appearing on bathroom walls. Despite their simple shape, they are a stylish and convenient solution for any interior. These tiles are perfectly combined with a contrasting grout (black or colored), which create clear and dynamic divisions on the wall. White squares are very popular, but pink or dark green tiles can also be used to decorate bathroom and kitchen walls. By choosing square porcelain tiles, you will get an interesting effect by combining tiles in different sizes – for example: larger ones on the wall around the sink area, and smaller ones in the shower area.
5. Vertical subway tiles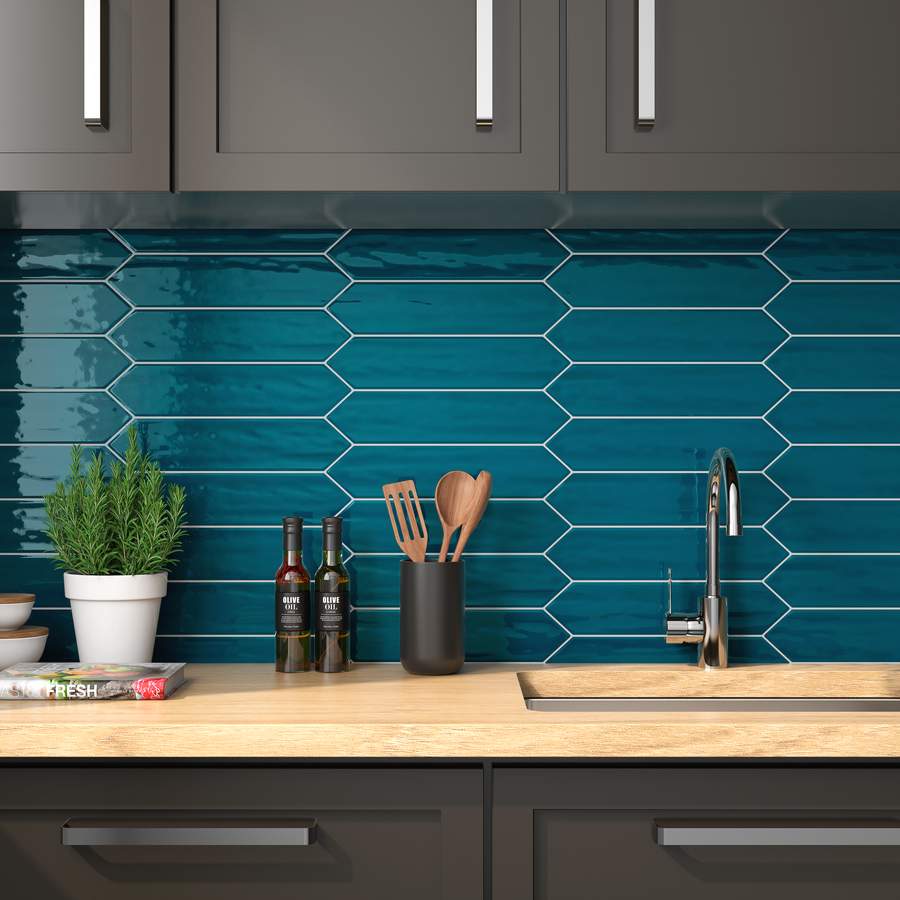 It seems like subway tiles will never go out of fashion. They are still one of the most popular ways to finish the kitchen backsplash wall. Contrary to appearances, they are not boring and conservative at all. Subway tiles have been changing over the years, and 2021 is no exception. This year – instead of bulged shiny bricks – flat tiles with a matte or pearl finish will be in style. In addition to white subway tiles, kitchens will also feature tiles in vivid colors: green, yellow, pink or blue. The biggest change concerns the way these tiles are laid. If you want to arrange your kitchen in line with the latest trends, give up the horizontal composition. Tiles are now placed vertically instead of horizontally – tile under the tile.
6. Colorful mosaic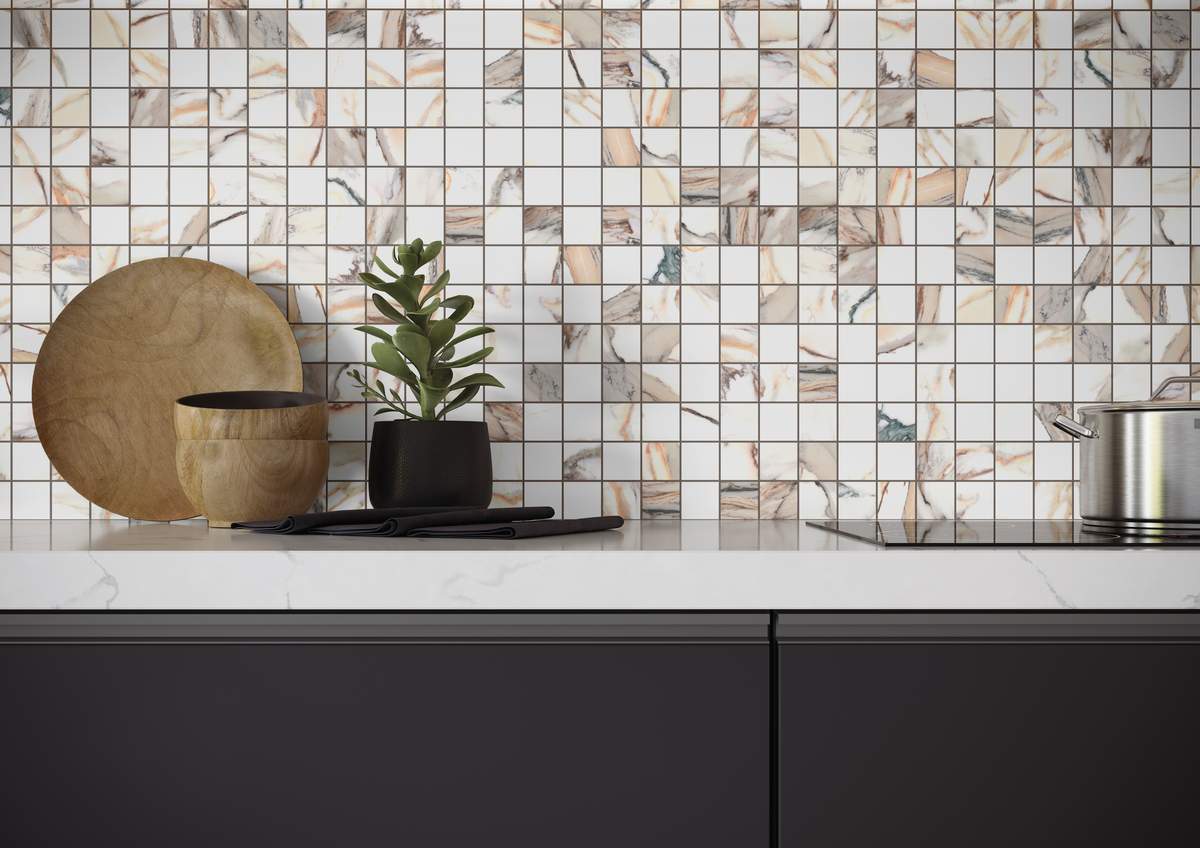 The wall above the countertop can also be decorated with a decorative mosaic. In 2021, tiles in the form of hexagons, fish scale, herringbone, and especially narrow, vertically arranged stripes (often called sticks) will be fashionable. Sticks can decorate a kitchen backsplash, but will also look great in the bathroom. Designers use narrow tiles to finish rounded wall surfaces, e.g. in the shower area.
Mosaic tiles on the kitchen wall allow you to easily highlight certain areas, as well as smuggle a large dose of color into the interior. The most fashionable tiles for the kitchen in 2021 have a shade of dark green, blue, navy blue or blush pink. If you like elegant interiors and subdued colors, choose a mosaic with a marble effect.
7. Cement tiles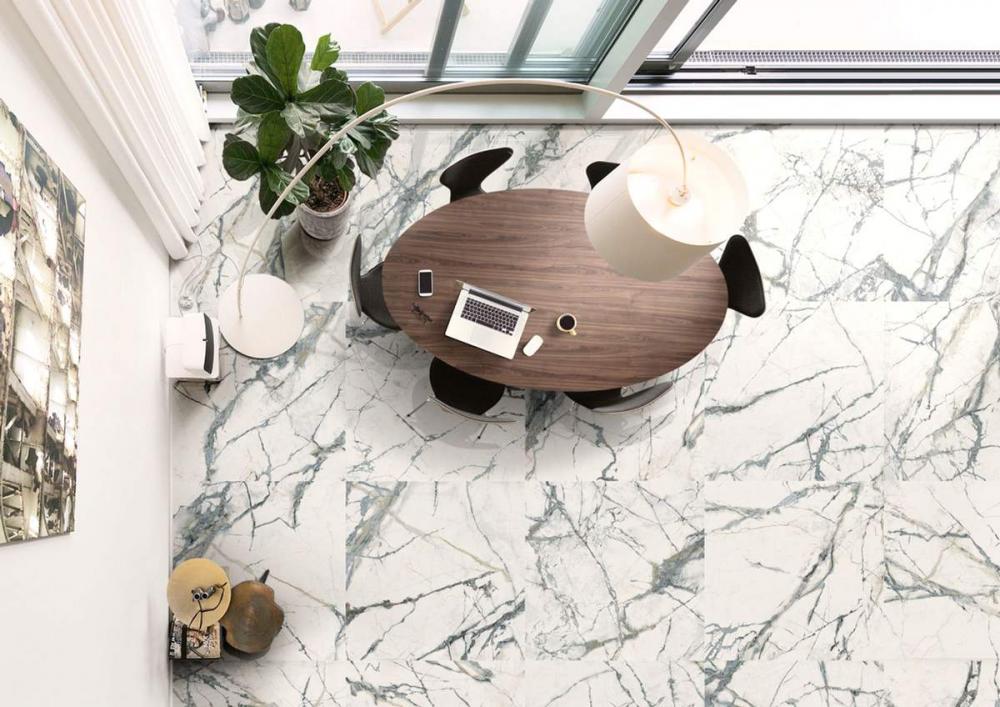 In 2021, patterned and colored cement tiles will be a good choice. Instead of multicolored patchwork, they more and more often create a well-thought-out composition with the use of geometric or floral ornaments on the floor.
The main source of inspiration are Victorian and Art Nouveau floors. Therefore, tiles in 2021 will have a slightly faded color or an elegant black and white pattern. This year, the popularity of antiqued tiles – with uneven edges or blurred prints – will continue to grow.
8. Stone tiles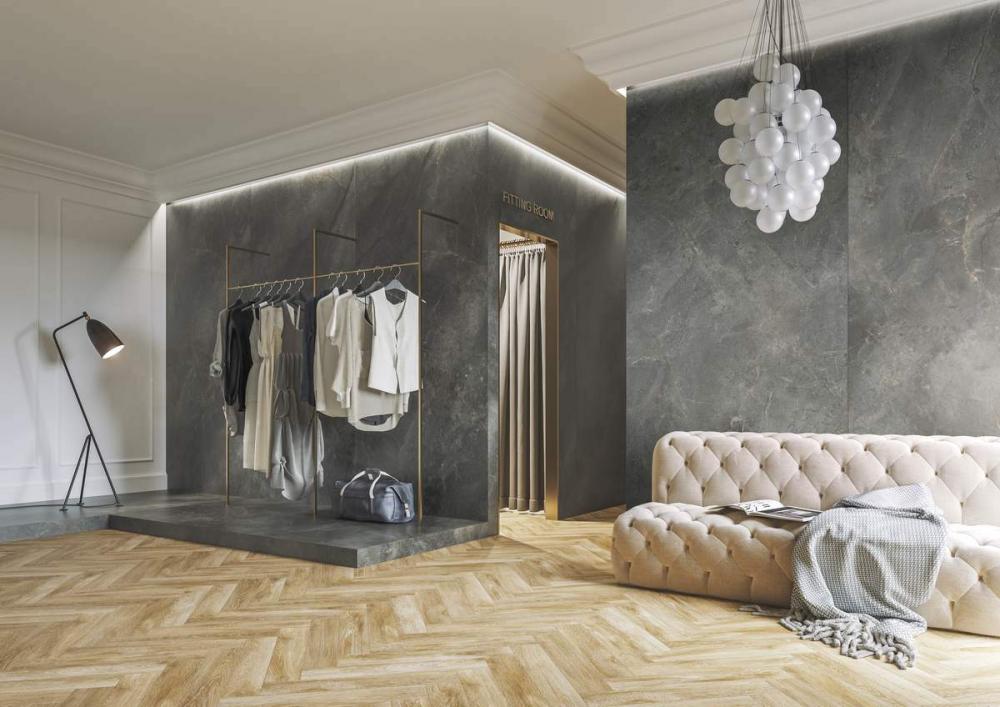 The kitchen trends for 2021 are strongly inspired by nature. In the new collections of floor tiles, patterns imitating raw stone appear more and more often, e.g. granite, travertine or fieldstone. Tiles usually have a matte finish and slight variations in color, which makes them look very natural.
Stone-like tiles are suitable for rustic, modern, classic or minimalist interiors. To give the floor a more traditional character, it is enough to use a thicker joint (the floor then resembles a stone pavement). In minimalist and modern interiors, the effect of a uniform, smooth surface without visible joints will work better.
2021 is the perfect time to go crazy with your tiling. A wide selection of colors, structures and tile formats gives you a huge range of possibilities. If you're looking for unique tiles that will liven up your interiors, look no further. Majestic Tiles is one of the Best Ceramic Tile Stores in Chicago that provide high quality European tiles for any space.