Wood Kitchen Floor Tile Ideas

Imagine your ideal kitchen – a place where natural charm meets modern practicality. With Majestic Tiles' wood-style porcelain tiles, you can enjoy the cozy atmosphere hardwood floors offer. These tiles bring together classic design and contemporary innovation, creating a space that's not just visually stunning but also comfortable and inviting.
As you step onto our wood-inspired tiles, you'll instantly feel the authenticity of real wood underfoot. The intricate patterns, the gentle knots, and the array of shades are all crafted to mirror the beauty of various wood species. Whether you're drawn to the warmness of oak or the exotic richness of mahogany, you can find the perfect tone to match your unique style.
But the beauty of these tiles goes beyond their appearance. They're made to last, just like porcelain. Unlike traditional hardwood, they're completely resistant to moisture, making them a smart choice for kitchens where spills are par for the course. With easy maintenance, your kitchen floor will continue to shine!
Picture this: you wake up in the morning, step into your kitchen, and feel the welcoming texture of porcelain tiles. As you go about your day, whether you're whipping up a delicious meal or sharing stories with loved ones, these tiles offer a reassuring comfort underfoot. It's the little things that make a difference, transforming your kitchen into a place where you can relax.
So, as you enjoy your morning coffee, remember, you have the tiles to thank for making your kitchen beautiful.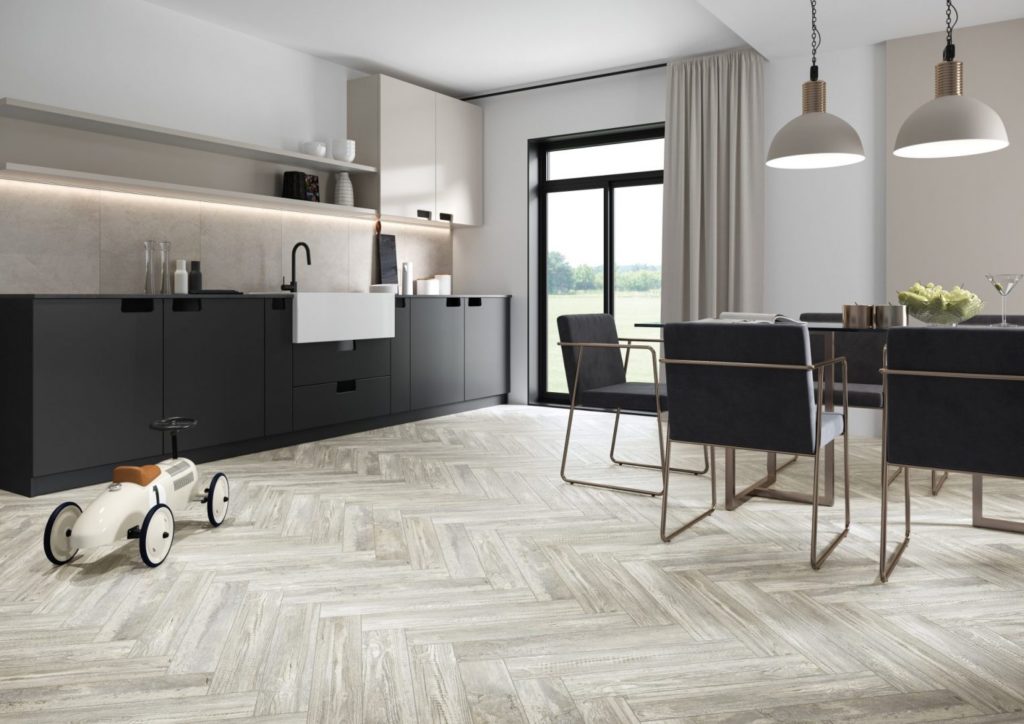 Concrete Kitchen Floor Tile Ideas
Envision the energy of a modern cityscape seamlessly flowing into your kitchen. With Majestic Tiles' concrete-style porcelain tiles, that urban atmosphere becomes a reality. These tiles are your passport to a world where raw urban beauty meets the sophistication of your kitchen, creating an atmosphere that's not only stylish but also strong and resilient.
Imagine the transition from a contemporary loft or a sleek city apartment to your very own kitchen. The concrete-inspired porcelain tiles capture the essence of urban charisma while infusing them with the durability of porcelain. Each tile becomes a canvas that tells a story of dynamic vibrancy, where the rough textures and understated hues merge into an elegant tapestry.
As you step onto these tiles, you'll feel something that mirrors the touch of real concrete. It's an experience that adds an extra layer of depth to your kitchen. And the best part? These tiles are built to last. From the hustle of meal preparations to the spontaneity of impromptu dance parties, these tiles are up to the challenge, maintaining their integrity and beauty.
The beauty of these concrete-style porcelain tiles isn't just in their appearance; it's in the experience they create. Your kitchen becomes a spot where urban ruggedness and refined living coexist in perfect harmony. And guess what? These tiles aren't just for show. They're designed to be lived on, to withstand the vibrant rhythm of your daily life.
So, whether you're throwing a party or simply enjoying a quiet morning coffee, these tiles bring a dash of urban sophistication to every moment. Your kitchen is transformed into a spot that's both inviting and trendsetting – a kitchen that tells your story and embraces the pulse of modern living. With Majestic Tiles' concrete-style porcelain tiles, your urban dream becomes a reality.
Versatile Vinyl Kitchen Floor Tile Ideas

With Majestic Tiles' vinyl-style porcelain tiles, your dream becomes a reality. These tiles welcome you into a world where the softness of vinyl meets the power of porcelain, creating a spot where every step is a cushioned and delightful!
Picture this: as you step onto your kitchen floor, it's like walking into a hug from a loved one. Majestic Tiles' vinyl-inspired porcelain tiles capture that essence perfectly. Suddenly, your kitchen isn't just a cooking area; it's a comfortable spot, where even the most boring tasks become moments of pleasure.
But hold on, there's more to it than just the cozy factor. The durability of porcelain takes center stage, ensuring that your kitchen remains inviting and steadfastly robust. Say goodbye to worries about spills, scratches, or the hustle and bustle of daily life. These tiles stand up to everything, maintaining their pristine beauty even on the busiest of days.
Think about it – your kitchen is a reflection of your style, and these vinyl-style porcelain tiles are ready to adapt. Whether you're all about that cottage charm or the sleek lines of modern design, these tiles seamlessly blend in. And oh, the creative freedom they offer! With so many patterns and colors, your kitchen floor becomes a canvas of endless possibilities.
Our vinyl tiles do more than just decorate your kitchen; they infuse it with a sense of comfort while embracing the steadfast strength of porcelain. With Majestic Tiles' vinyl-style porcelain tiles, your kitchen isn't just a cooking space – it's a spot where comfort meets durability, and style meets practicality.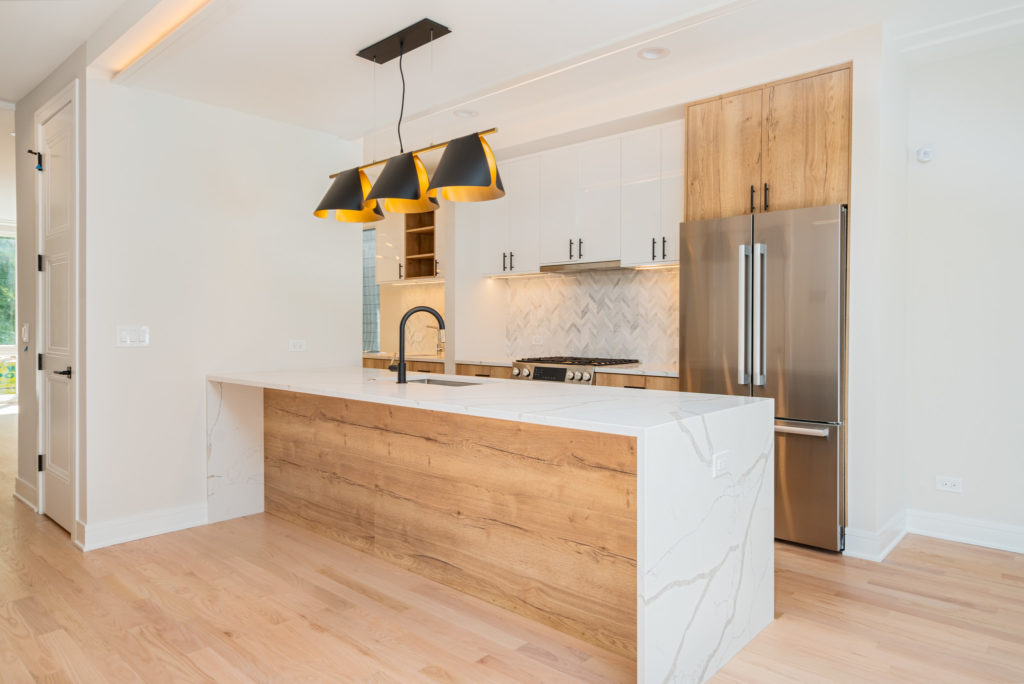 Marble Kitchen Floor Tile Ideas

Close your eyes and imagine yourself entering a place where elegance rules and majesty invites. This realm of timeless elegance becomes a reality with Majestic Tiles' marble-style porcelain tiles. Our tiles invite you to enjoy the beauty of marble right in the center of your kitchen, providing a sense of majesty that is both classic and modern.
Imagine your kitchen floor transformed into a work of art, covered with marble-style porcelain tiles that bear the intricate veining of natural marble. Each tile tells a story of nature's craftsmanship. The patterns dance and swirl across the surface, creating attention and sparking conversations.
Majestic's marble-style porcelain tiles are magnificent not only in appearance, but also in functionality. Unlike actual marble, which requires precise maintenance, these tiles have the same fantastic charm without the flaws. Spills, ordinary use, and stains are no longer a cause for concern. Your kitchen floor retains its pristine beauty, allowing you to enjoy luxury without sacrificing comfort.
A sense of greatness surrounds you as you walk across these marble-inspired tiles. Your regular cooking adventures become experiences, surrounded by a setting that screams luxury from every aspect.
These marble-style porcelain tiles from Majestic Tiles extend an open invitation to immerse yourself in a world where timeless beauty meets lasting atmosphere. It doesn't matter if you aim for a more traditional kitchen, or some modern flair – these tiles create an something that oozes luxury. From the simplicity of everyday moments to the grandeur of special occasions, your kitchen will always be there, and it will be there in style.