Why Tom Chose Porcelain Pavers for His Dream Patio
The foundation of the project rested on an important choice: selecting the perfect materials. He envisioned a patio that would be more than just a boring extension of his home; it should ooze elegance, a place to host gatherings and unwind after a long day. This vision led him to porcelain pavers.
Tom knew that the patio he envisioned should not only be beautiful but should also withstand the test of time. The fact that porcelain pavers are highly resistant to wear and tear, weathering, and staining made them a top choice.
The aesthetics were equally important to Tom. He longed for a patio that exuded elegance, something that would seamlessly blend with his home's overall aesthetics.
Tom's story showcases the significance of making informed choices when it comes to materials for your dream backyard. We hope it encourages you to think beyond the ordinary when designing your outdoor sitting area and to invest in materials that can truly make your vision a reality.
The World of Porcelain Pavers
Exploring Porcelain Paver Options and Styles
The first step in Tom's porcelain paver journey was getting to know the wide range of options available. The variety in styles allowed him to select pavers that perfectly matched his vision for the space.
One style that caught Tom's eye was the wood-look porcelain pavers. With resemblance to natural wood, these pavers added a warm, simple appeal to his patio. They gave the area a cozy, inviting atmosphere that was perfect for hosting gatherings or enjoying a quiet evening.
On the opposite end of the spectrum were the sleek and modern designs that screamed sophistication. These pavers appealed to Tom's sense of aesthetics, creating a juxtaposition with the surrounding greenery. They offered a touch of elegance, a contrast that Tom found captivating.
The Selection Process
The next phase of Tom's journey involved choosing the specific style that would become the foundation of his dream patio. This was not just a decision about aesthetics; it was also about aligning with his home's architectural design.
Tom's choice of wood-look porcelain pavers brought a sense of nature into his space. The warm, earthy tones and textured finish evoked a feeling of authenticity. Tom felt that these pavers would go beautifully with the backyard.
But this wasn't just about the visual appeal. The porcelain pavers he selected were not only stunning but also practical. They offered the durability and resilience required for an outdoor setting. These pavers could endure the elements, as well as the test of time, ensuring that his patio would stay beautiful for years to come.
Porcelain Paver Installation
Tom's journey through the world of porcelain pavers was not complete without Majestic Tiles. Our craftsmen turned his vision into reality. The team ensured that the pavers were laid perfectly, creating a seamless, visually pleasing surface.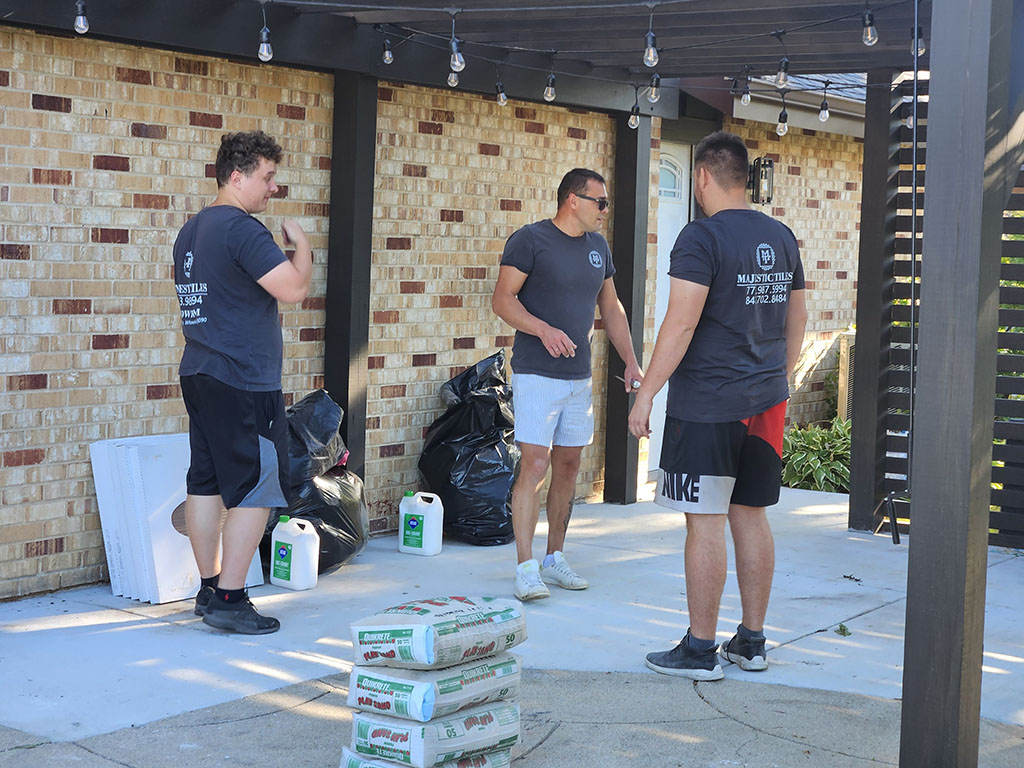 The Perks of Porcelain Pavers
Benefits of Choosing Porcelain Pavers for Your Patio
Tom wasn't only going for looks when choosing porcelain pavers. Let's explore the advantages that came with choosing porcelain pavers for his patio transformation.
The Durability of Porcelain Pavers
One of the most important aspects of porcelain pavers is their durability. Our pavers are built to withstand the test of time and the trials of outdoor exposure. Unlike natural stone or wood, porcelain pavers are unaffected by weather conditions. They resist fading, cracking, and even water, making them perfect for outdoor use. Tom knew that his investment in porcelain pavers was not just for today; it was an investment in his home.
Low Maintenance
Tom was thrilled to discover the minimal upkeep required for porcelain pavers. They are exceptionally low maintenance, which means more time to enjoy the patio and less time spent on chores. Porcelain pavers resist stains, which is a blessing for outdoor spots prone to spills and accidents. Cleaning is a breeze; a simple sweep or occasional wash is all that's needed to keep the patio looking good as new.
Porcelain Paver Curb Appeal
The impact porcelain pavers had on Tom's home's curb appeal was undeniable. Not only did they add to the aesthetics of his patio but also enhanced the overall appearance of his home. The clean, polished look of the pavers added a touch of sophistication to the property.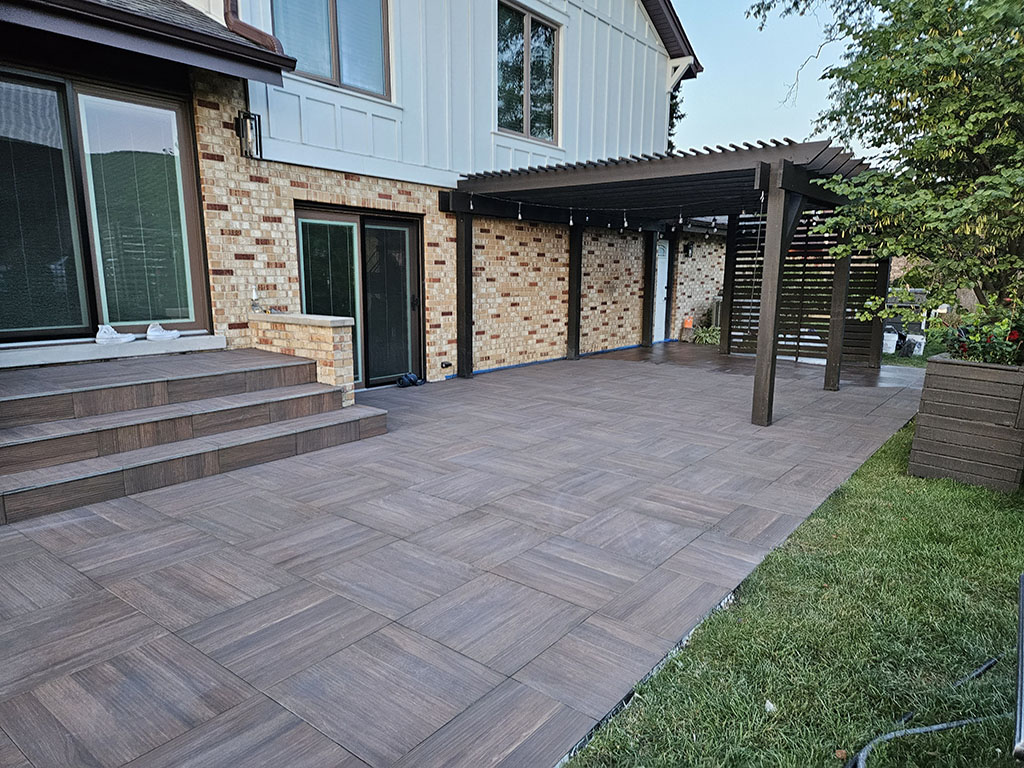 Practical Tips from Majestic Tiles
Our Guide to Selecting and Maintaining Your Porcelain Paver Patio
Tom's journey to create his dream porcelain paver patio was not just about the transformation itself but also about the wisdom he gained during the process. In this section, we will share a couple of valuable insights into selecting the right porcelain pavers for you:
Selecting the Right Porcelain Paver for You
Selecting the right porcelain pavers for your patio is the first step. We recommend taking your time and considering the following:
Style and Aesthetics:
Think about the overall style you want for your patio. Consider the design elements of your home and how the pavers will fit into that.
Durability and Quality: Invest in high-quality porcelain pavers. They are designed to last, and their durability is a significant benefit.
Size and Shape: The size and shape of the pavers can impact the overall look of your patio. Experiment with different arrangements and patterns to find what you like the most.
Texture: Pay attention to the texture of the pavers. Some are smoother, while others mimic the texture of natural stone or wood. Consider how the texture will affect the feel of your space.
Color: Porcelain pavers come in a variety of colors. Take into account your home's color scheme and your personal preferences when choosing a shade.
Maintaining the Beauty of Your Porcelain Paver Patio
Here are some maintenance tips to keep your porcelain paver patio looking stunning year after year:
Regular Cleaning: Sweeping or using a leaf blower to remove dirt can prevent scratches and stains.
Sealing (Optional): While porcelain pavers are low-maintenance, you can consider sealing them to add to their longevity and protect against staining.
Inspect Regularly: Keep an eye on your pavers and ensure that no significant damage has occurred. If you notice any issues, addressing them quickly can prevent further problems.
Final Thoughts and Testimonials​
Living the Porcelain Paver Patio Dream​
Tom's patio has become more than just a beautiful extension of his home; it's a place where he can create memories with family and friends. Tom shares his reflections:
"The decision to go with porcelain pavers for my patio was undoubtedly one of the best choices I've made. The guys from Majestic Tiles really exceeded my expectations."
One of Tom's friends- Sarah, had this to say:
"Let me tell you, the pavers add so much to the backyard it's crazy. Tom usually throws parties in his backyard and I for one am waiting for the next one."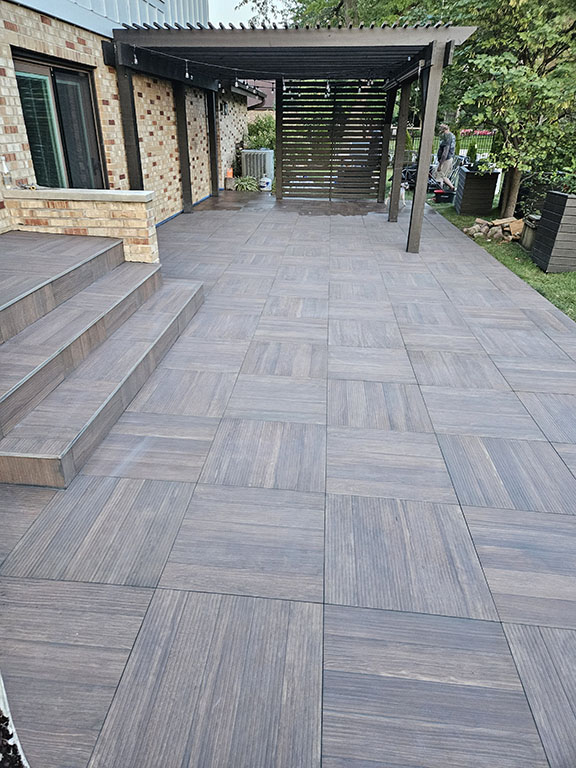 Finding the Right Team for Your Porcelain Paver Patio Project
In the final section of Tom's porcelain paver patio transformation, we turn our attention to the people that also played a role in making Tom's dream a reality. Tom reflects on the importance of selecting the right team for your patio project and underscores the significance of expertise and professionalism in achieving a successful outcome.
"Choosing Majestic Tiles was the best thing i could have done. From our first meeting to the very end, their professionalism shone through. They understood my vision but also added their insights, making the design even better."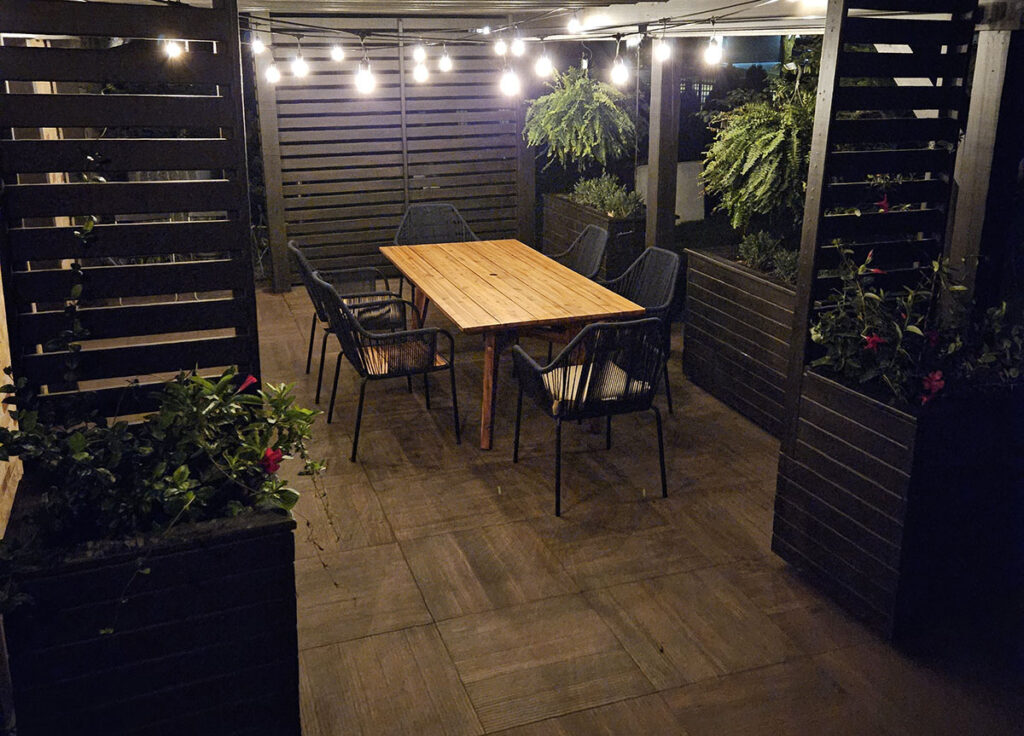 Tom leaves us with some valuable advice when it comes to choosing a team for their own patio projects:
"Whatever you are trying to do, whether it's a complete remodeling or a simple renovation, do not compromise on the team you select. Look for professionals who understand your vision. Choose people that are committed to doing the best work they can. Majestic Tiles did that for me, and I encourage you to find a team that can do the same for you.
In the end, it's not just about a patio; it's about creating an extension of your home that adds value to your life, day in and day out. The right team can turn your dreams into reality, and we here at Majestic Tiles can attest that the investment is well worth it.
With this, Tom's porcelain paver patio transformation story comes to a close. It's a testament to the remarkable difference that a dedicated and professional team can make in turning your vision of the perfect outdoor space into a tangible reality.
If Tom's porcelain paver patio transformation has sparked your own dreams of adding a special touch to your backyard, we invite you to take the first step.
At Majestic Tiles, we understand that your home is your sanctuary, and we are here to make your dreams a reality. We take your vision and turn it into a tangible, breathtaking reality.